$19.99
AUD
Category: TOP TEEN PICKS | Series: Wilder Trilogy | Reading Level: very good
Since a deadly virus and the violence that followed wiped out his parents and most of his community, Finn has lived alone on the rugged coast with only his loyal dog Rowdy for company. He has stayed alive for two winters--hunting and fishing and trading food, and keeping out of sight of the Wilders, an armed and dangerous gang that controls the north, led by a ruthless man named Ramage. But Finn's isolation is shattered when a girl runs onto the beach. Rose is a Siley--an asylum seeker--and she has escaped from Ramage, who had enslaved her and her younger sister, Kas. Rose is desperate, sick, and needs Finn's help. Kas is still missing somewhere out in the bush. And Ramage wants the girls back--at any cost.   ...Show more
$19.99
AUD
Category: TOP TEEN PICKS | Series: Whisper
Subject 684--"Jane Doe"--has been locked underground in a secret government facility, enduring tests and torture. After a freak accident reveals the dangerous power Jane has concealed for years, it also reveals that the government has been keeping secrets of its own.
$19.99
AUD
Category: TOP TEEN PICKS
So, then it happened. Peter Bridges pulled into the bus bay. You 're not allowed to do that. Peter was in my year but I hardly ever saw him at school. He was on the football team, though he had almost been kicked off more times than I could count, for fighting and not showing up to training. His car was the cheapest-looking Toyota Corolla I had ever seen in my life. Hey Hamish, he said, and I couldn 't for the life of me work out how it was that he could possibly know my name. Want a ride home' When Charlie Parker dies it affects everyone who knew him. Everyone, that is, except for Hamish Day, the boy with only one friend, who lives on a cabbage farm. After a tragic car accident leaves his school in grief, Hamish finds himself pulled into the lives of the people left behind. He tries his best to thread them back together again, even though he is pretty sure he 's the least qualified person for the job. With hard-hitting themes of unrequited love, sexuality, bullying, death and suicide, readers will take part in a poignant story about self-discovery, grief and the tragic power of silence. A gripping look at adolescent pain with a narrative maturity that accurately reflects its YA milieu, I Had Such Friends pushes us to reflect on our own sliding doors ' moment. Who are you to someone else, and what part do you play in his or her story' ...Show more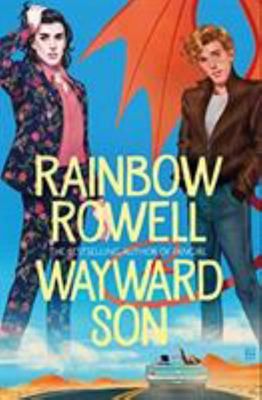 $17.99
AUD
Category: TOP TEEN PICKS | Series: Simon Snow
Wayward Son, the sequel to Carry On, is the stunning new YA novel by the bestselling author of Fangirl, Rainbow Rowell. With all of her signature wit and heart, this is Rainbow at her absolute best. The story is supposed to be over. Simon Snow did everything he was supposed to do. He beat the villain. He won the war. He even fell in love. Now comes the good part, right? Now comes the happily ever after... So why can't Simon Snow get off the couch? What he needs, according to his best friend, is a change of scenery. He just needs to see himself in a new light... That's how Simon and Penny and Baz end up in a vintage convertible, tearing across the American West. They find trouble, of course. (Dragons, vampires, skunk-headed things with shotguns.) And they get lost. They get so lost, they start to wonder whether they ever knew where they were headed in the first place... With Wayward Son, Rainbow Rowell has written a book for everyone who ever wondered what happened to the Chosen One after he saved the day. And a book for everyone who was ever more curious about the second kiss than the first. Come on, Simon Snow. Your hero's journey might be over - but your life has just begun. ...Show more
$17.99
AUD
Category: TOP TEEN PICKS
"I loved, loved, LOVED this book." --Jodi Picoult, #1 New York Times bestselling author of Small Great Things and A Spark of Light "Big-hearted, honest, hilarious, and achingly romantic." --Adam Silvera, New York Times bestselling author of They Both Die at The End   "This is a classic in the making." - -Marie Lu, #1 New York Times bestselling author of Warcross "This book is pure joy." --Deb Caletti, Printz Honor Recipient for A Heart in a Body in the World and National Book Award Finalist for Honey, Baby, Sweetheart Two friends. One fake dating scheme. What could possibly go wrong? Frank Li has two names. There's Frank Li, his American name. Then there's Sung-Min Li, his Korean name. No one uses his Korean name, not even his parents. Frank barely speaks any Korean. He was born and raised in Southern California. Even so, his parents still expect him to end up with a nice Korean girl--which is a problem, since Frank is finally dating the girl of his dreams: Brit Means. Brit, who is funny and nerdy just like him. Brit, who makes him laugh like no one else. Brit . . . who is white. As Frank falls in love for the very first time, he's forced to confront the fact that while his parents sacrificed everything to raise him in the land of opportunity, their traditional expectations don't leave a lot of room for him to be a regular American teen. Desperate to be with Brit without his parents finding out, Frank turns to family friend Joy Song, who is in a similar bind. Together, they come up with a plan to help each other and keep their parents off their backs. Frank thinks he's found the solution to all his problems, but when life throws him a curveball, he's left wondering whether he ever really knew anything about love--or himself--at all. In this moving novel, debut author David Yoon takes on the question of who am I? with a result that is humorous, heartfelt, and ultimately unforgettable. ...Show more
$17.99
AUD
Category: TOP TEEN PICKS | Reading Level: 9 YA
Sixteen-year-old Bri wants to be one of the greatest rappers of all time. As the daughter of an underground hip hop legend who died right before he hit big, Bri's got massive shoes to fill. But when her first song goes viral for all the wrong reasons, Bri finds herself at the centre of controversy and p ortrayed by the media as more menace than MC. And with an eviction notice staring her family down, Bri no longer just wants to make it – she has to. Even if it means becoming the very thing the public has made her out to be. Inspired by Angie's mom losing her job when Angie was a teenager. On the Come Up sheds light on child poverty in the US. Angie says: "Kids like Bri, who are facing homelessness and poverty, become statistics and numbers. Their stories are never told… I want to give those kids more books to see themselves in." On the Come Up also draws on Angie's experiences as a teen rapper. She says, "It takes us right back to Garden Heights post Khalil. Buildings are burned, and a struggling community is left in the ashes. Hip hop was birthed from similar conditions in the Bronx … [when] young people used their creativity to make themselves heard and so created one of the most influential cultures of modern history." The Hate U Give has been on the New York Times bestseller list since publication. It was also #1 on Amazon UK, and it has received numerous accolades, including winning the Waterstones Children's Book Prize and the British Book Awards Children's Book of the Year. It is shortlisted for the Carnegie Medal. It was named a New York Times Editors' Choice and a Teen Vogue Book of the Year. It was also voted one of Time Magazine's books of the year. The movie adaptation released in January 2019. ...Show more
$16.99
AUD
Category: TOP TEEN PICKS | Series: The Book of Dust
Malcolm Polstead's Oxford life has been one of routine, ordinary even. He is happiest playing with his daemon, Asta, in their canoe, La Belle Sauvage. But now as the rain builds, the world around Malcolm and Asta is, it seems, set to become increasingly far from ordinary. Finding himself linked to a bab y by the name of Lyra Belacqua, Malcolm is forced to undertake the challenge of his life and to make a dangerous journey that will change him and Lyra forever . . . ...Show more
$24.99
AUD
Category: TOP TEEN PICKS | Series: The\After Ser.
Tessa is a good girl with a sweet, reliable boyfriend back home. She's got direction, ambition, and a mother who's intent on keeping her that way. But she's barely moved into her freshman dorm when she runs into Hardin. With his tousled brown hair, cocky British accent, tattoos, and lip ring, Hardin is cute and different from what she's used to. But he's also rude - to the point of cruelty, even. For all his attitude, Tessa should hate Hardin. And she does - until she finds herself alone with him in his room. Something about his dark mood grabs her, and when they kiss it ignites within her a passion she's never known before. He'll call her beautiful, then insist he isn't the one for her and disappear again and again. Despite the reckless way he treats her, Tessa is compelled to dig deeper and find the real Hardin beneath all his lies. He pushes her away again and again, yet every time she pushes back, he only pulls her in deeper. Tessa already has the perfect boyfriend. So why is she trying so hard to overcome her own hurt pride and Hardin's prejudice about nice girls like her? Unless...could this be love? ...Show more
$17.99
AUD
Category: TOP TEEN PICKS
'One of the best love stories I've ever read.' Angie Thomas, bestselling author of The Hate U Give. From debut author justin a. reynolds comes The Opposite of Always, a razor-sharp, hilarious and heartfelt novel about the choices we make, the people we choose and the moments that make life worth relivin g. Perfect for fans of Nicola Yoon and John Green. When Jack and Kate meet at a party, he knows he's falling - hard. Soon she's meeting his best friends and Kate wins them over as easily as she did Jack.But then Kate dies. And their story should end there.Yet Kate's death sends Jack back to the beginning, the moment they first meet, and Kate's there again. Healthy, happy, and charming as ever. Jack isn't sure if he's losing his mind. Still, if he has a chance to prevent Kate's death, he'll take it. Even if that means believing in time travel. However, Jack will learn that his actions are not without consequences. And when one choice turns deadly for someone else close to him, he has to figure out what he's willing to do to save the people he loves. 'Read this one, reread it, and then hug it to your chest.' Becky Albertalli, bestselling author of Simon vs. the Homo Sapiens Agenda ...Show more
Items per page:
1 - 9 of 9