$19.99
AUD
Category: MIND,BODY & SPIRIT
A new edition of Leunig's much loved and best-selling collection of prayers, featuring remastered illustrations and a new introduction. A person kneels before a duck to reflect upon the troubles and joys of life, and offers thanksgivings and expressions of hope. The person is praying...This collection o f prayers and drawings from Michael Leunig is full of gentle humour and joyous grace. Celebrating the ritual of connection, transformation and love that is prayer, it offers consolation and inspiration, gently encouraging readers to develop an awareness of their inner life and reminding us of the potential of the spiritual in navigating the unpredictability of this life. ...Show more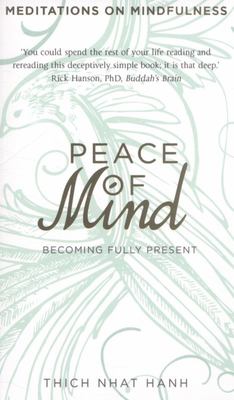 $27.99
AUD
Category: MIND,BODY & SPIRIT
In Peace of Mind, Zen Master Thich Nhat Hanh reminds us that integrating body and mind is the only way to feel truly alive in each moment. Bringing together ancient wisdom and contemporary thinking on the subject of mindfulness, Peace of Mind is a deceptively simple book which provides a practical found ation for understanding the principles of mind/body awareness. As it introduces critical tools for sustaining authentic wellbeing, it helps us to take control of our lives, de-stress and find peace and happiness in this frantic world. ...Show more
$45.00
AUD
Category: MIND,BODY & SPIRIT
Is our destiny written inside our very DNA? Richard Rudd suggests that humanity is on the verge of a major shift in consciousness rooted in a new understanding of how our genes operate. He introduces this fantastic possibility, showing how the "gene keys" are an inner language designed to transform our core beliefs about ourselves and raise us to a higher level of awareness. The book works alongside state-of-the-art online profiling software that provides instantaneous free "Hologenetic Profiles," based on astrological data and revealing the underlying genetic patterns governing relationships, finances, and health. ...Show more
$9.99
AUD
Category: MIND,BODY & SPIRIT | Series: Usborne Bible Tales
This is a simple retelling of the Easter story for young children. It includes a simpler text at the top of each page for beginner readers, and a longer text at the bottom of the page for parents to read aloud to children learning to read. It provides an enjoyable opportunity for parents and children to share the excitement and satisfaction of learning to read. ...Show more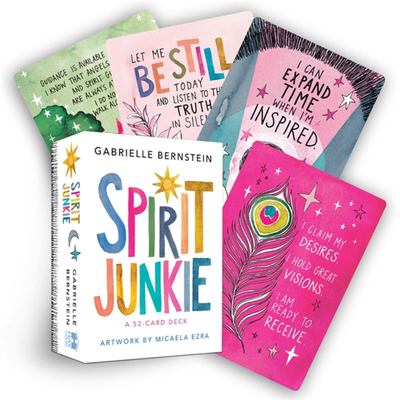 $31.99
AUD
Category: MIND,BODY & SPIRIT
This is the divine guidance you have been seeking. These beautiful oracle cards will give you the inspiration and motivation you need to share your positivity and gifts with the world. This is a collection of energetically charged cards that will help you step into your unique power and use your gifts to be of service to others. This is for the Spirit Junkies who believe passionately in the goodness of the world, and want to feel empowered and empower others. Created by New York Times bestselling spiritual author Gabrielle Bernstein, this deck features the signature look of her The Universe Has Your Back Cards and Super Attractor Cards. On each card is a watercolour - illustrated with celestial motifs, floral art and mystical elements - showing an inspirational message and call to action, such as: 'I trust that my intuition is always leading me in the right direction' 'Owning my power inspires others to do the same' 'Taking care of myself is a radical act of love' ...Show more
$22.99
AUD
Category: MIND,BODY & SPIRIT | Series: Spark Ser.
This eye-catching matchbox contains 50 prompts to light the imagination. Applicable to any artistic pursuit--be it art, music, writing, or idea generation--this makes a smart and distinctive gift for creatives of all stripes.
$14.99
AUD
Category: MIND,BODY & SPIRIT | Series: Pocket Classic
This is a collection of powerful and inspiring teachings in an appealing, convenient pocket-size book from one of today's most important and beloved spiritual teachers, the Zen Buddhist monk Thich Nhat Hanh. Next to His Holiness the Dalai Lama, Thich Nhat Hanh is the best-known Buddhist teacher in the w orld, and his teachings have touched millions. Thich Nhat Hanh is known for his warm, generous, and joyful teaching style that makes his wisdom remarkably accessible and resonant to readers from all backgrounds. These selected writings are drawn from Thich Nhat Hanh's many published works and provide a wonderful overview of his teachings. This reader covers the main themes that Thich Nhat Hanh has addressed as a Buddhist teacher: mindfulness in our daily lives, Buddhism and enlightenment, working with emotions and relationships, and transforming society (engaged Buddhism). ...Show more
$24.99
AUD
Category: MIND,BODY & SPIRIT | Reading Level: very good
From the team that brought you The Obstacle Is the Way and Ego Is the Enemy, a beautiful daily devotional of Stoic meditations--an instant Wall Street Journal and USA Today Bestseller.   Why have history's greatest minds--from George Washington to Frederick the Great to Ralph Waldo Emerson, along with t oday's top performers from Super Bowl-winning football coaches to CEOs and celebrities--embraced the wisdom of the ancient Stoics? Because they realize that the most valuable wisdom is timeless and that philosophy is for living a better life, not a classroom exercise.   The Daily Stoic offers 366 days of Stoic insights and exercises, featuring all-new translations from the Emperor Marcus Aurelius, the playwright Seneca, or slave-turned-philosopher Epictetus, as well as lesser-known luminaries like Zeno, Cleanthes, and Musonius Rufus. Every day of the year you'll find one of their pithy, powerful quotations, as well as historical anecdotes, provocative commentary, and a helpful glossary of Greek terms.   By following these teachings over the course of a year (and, indeed, for years to come) you'll find the serenity, self-knowledge, and resilience you need to live well. ...Show more
$24.99
AUD
Category: MIND,BODY & SPIRIT
The fairies wish for everyone to experience their ancient wisdom and feel connected to the Earth. They are the guardians of nature, magical manifestors-they wish only to create beautiful blessings in our lives. Now there is a way to receive these blessings, using the Oracle of the Fairiesas the doorway to the invisible realm of possibility just beyond our fingertips. Created by Karen Kay, renowned fairy communicator, Oracle of the Fairieswill guide the user to seek out fairy wisdom and receive concrete answers that will bring inspiration and solutions to everyday questions. Each reading will share positive and practical fairy insight, directly related to the user's unique energy and personal circumstances. The purpose of this oracle deck is to enable the user to forge their own path in life with wisdom and confidence-easily done when you can readily communicate with your fairy guides for help through this extraordinary deck of cards. Oracle of the Fairieswill appeal to those who love nature and believe in the magic and wonder of life. It is for the people who "know" there is more to life than what can be seen with our physical eyes, who love and care for the planet, and have a passion for the environment. ...Show more
$29.99
AUD
Category: MIND,BODY & SPIRIT
'You must get as much as you can from any journey, because in the end the journey is all you have. So why not live?' Follow your dreams and live your destiny. New York Times and international bestselling author of The Alchemist Paulo Coelho leads you down the path of reflection and imagination with th ought-provoking questions, a personal introduction, and beautifully designed quotes from his most popular books, speeches, interviews, and posts. Journey is for Coelho fans and anyone seeking a space for discovery and inspiration. Paulo Coelho has sold over 230 million copies of his books, in 81 different languages in more than 170 countries across the world. ...Show more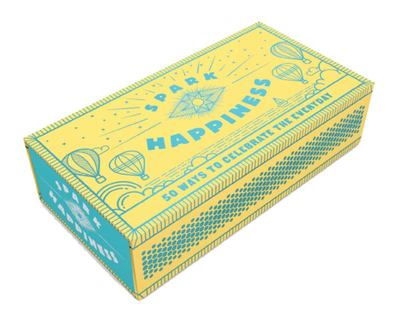 $22.99
AUD
Category: MIND,BODY & SPIRIT | Series: Spark Ser.
The prompts inside this cheerful matchbox offer inspiring ideas for sharing and cultivating moments of joy, appreciating bright spots, and celebrating the everyday. Petite and sweet, this little box of happiness makes a great stocking stuffer, birthday gift, or thank-you for exceptional party hosts.