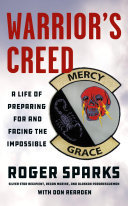 $32.99
AUD
Category: MILITARY
"Absence of self is my sword" comprises the final line in "The Warrior's Creed," a 14th century poem written by an unknown Japanese samurai, and this is the code Master Sergeant Roger Sparks embodied as a Recon Marine turned Alaskan Pararescueman. A living legend in the military, Sparks first made a nam e for himself within elite Marine Reconnaissance units. He went on to become an instructor where he trained future Reconnaissance Marines with unorthodox and ancient indigenous warrior techniques. A decade later, the same methods would keep him and others alive, when he hoisted into a maelstrom of violence to rescue an embattled platoon in the rugged mountains of eastern Afghanistan. Introduced to a tough code of honor, family, and brotherhood from birth, Roger Sparks rose to become a distinguished instructor in Marine Reconnaissance and a Silver Star recipient as an Alaska Pararescueman. A raw and exhilarating tale of guts, grit, and heart, Warrior's Creed recounts the hidden side of special operations training, heroic and heartbreaking Alaskan wilderness rescues, and the surreal and deadly rescues during Operation Bulldog Bite in Afghanistan's Watapur Valley. This powerful and inspirational story is as much of a self-help book as it is an edge of your seat military memoir. Warrior's Creed reveals a motivating and mindful approach to over coming the odds, facing the impossible, and finding mercy and grace in the aftermath. ...Show more
$49.99
AUD
Category: MILITARY
General Sir Peter Cosgrove AK AC (Mil) CVO MC (Retd) is one of Australia's most significant public figures. As a soldier he saw action in Vietnam, winning the Military Cross, and rose to the very top of his profession, becoming Chief of the Defence Force. Soon after his retirement from the Army, he was invited to take charge of the huge relief and rebuilding operation in Queensland after the devastation of Cyclone Larry. In 2014, Cosgrove became Australia's Governor-General. As Governor-General he travelled far and wide, supporting Australians in times of crisis, sadness, joy or celebration, representing us on the world stage with humour, intelligence and a force of personal magnetism that was felt by everyone from prime ministers to presidents. When he retired in July 2019, it was as one of the most beloved and respected governors-general in Australia's history. Cosgrove embodies the traits we truly value: warmth, humanity, toughness and loyalty. His humour and empathy shone through the pomp and ceremony, and his time as Governor-General will be remembered as much for his laughter as for the usual dignities of the office. You Shouldn't Have Joined ... (an expression much used during his days as a soldier) is the story of Cosgrove's extraordinarily full and eventful life. It is also the story of those who have shared it with him, in particular his wife Lynne. His memoir allows us an incredible insight into the role and world of Australia's Governor-General. He was there as two prime ministers were toppled by their own party. He was there through disasters both natural and man-made, such as the destruction of MH17. He was there for world leaders, and for ordinary Australians. You Shouldn't Have Joined ... is a true reflection of the man himself, filled with intelligence, forthrightness, compassion and a brilliant eye for a telling anecdote. ...Show more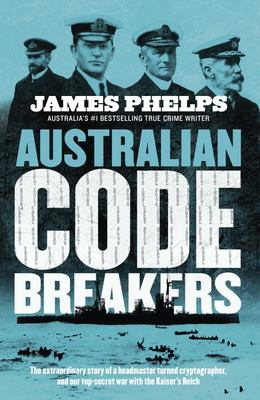 $34.99
AUD
Category: MILITARY
The extraordinary story of a headmaster turned cryptographer, and our top-secret war with the Kaiser's Reich. On 11 August 1914, just days after war had been declared, Australian Captain J.T. Richardson boarded a German merchant vessel fleeing Melbourne's Port Phillip and audaciously seized a top-secret naval codebook. The fledgling Australian Navy had an opportunity to immediately change the course of the war. But what exactly had they found? Enter the Australian code breakers ...Recruited by savvy top brass, maths whizz and German speaker Frederick Wheatley worked night and day to fathom the basic principles of the code and start tracking the German Navy's powerful East Asia Squadron, led by the brilliant Maximilian von Spee. Soon Melbourne was a hub of international Allied intelligence. This is the untold story of how a former Australian headmaster and his mostly female team cracked one of Germany's most complex codes, paving the way for the greatest Allied naval victory of World War I. ...Show more
$32.99
AUD
Category: MILITARY
Clear-headed, frank, witty and surprising, a top Australian soldier shares his secrets of success in life and work learnt in combat and adversity.
$19.99
AUD
Category: MILITARY | Series: Australian Army Campaigns Ser.
Buoyed by the success of the 1st and 2nd Australian divisions in the Battle of Menin Road, the men of the 4th and 5th Australian divisions filed into the front line ready for the next phase of the battle. Ahead of them lay the blackened remnants of Polygon Wood, a desolate expanse of splintered stumps s hattered by the devastating shellfire. The view across no man's land revealed lines of German barbed wire and a criss-cross of heavily defended trenches. Here and there the Australians could also see solid concrete pillboxes dotted around the landscape. In the centre of the battlefield sat a huge man-made mound of earth - the Butte. Once the stop-butte for an old artillery range, this dominating feature was fortified with machine-guns, laced with barbed wire and riddled with tunnels and dugouts.The Battle of Polygon Wood was the second phase in the British forces' advance on Passchendaele. Success at Polygon Wood would place Broodseinde Ridge within the Second Army's reach. But the entire operation was almost blindsided by a German counter-attack on the eve of the battle. The critical situation on the Anzac Corps right was only saved by Pompey Elliott's 15th Brigade whose desperate efforts to contain the German attack and seize the Second Army's objectives turned a 'fine success' into a 'splendid victory'. But, as author Jonathan Passlow describes in Polygon Wood 1917, this was a victory that was by no means assured and in which luck would play its part. ...Show more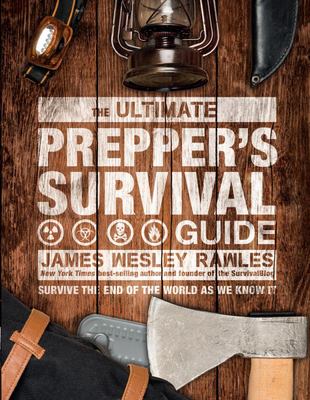 $39.99
AUD
Category: MILITARY
The book is written by the world's number one survivalist James Wesley, Rawles, the founder of the Survival Blog.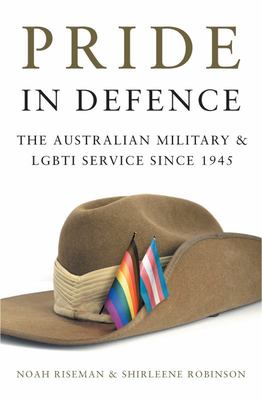 $34.99
AUD
Category: MILITARY
Since the Second World War the Australian military has undergone remarkable transformations in the way it has treated lesbian, gay, bisexual, transgender and intersex service members- it has shifted from persecuting, hunting and discharging LGBTI members to embracing them as valued members who enhance t he Force's capabilities. LGBTI people have served in the Australian military since its very beginnings, yet Australian Defence Force histories have been very slow to recognise this. Pride in Defence confronts that silence. It charts the changing policies and practices of the ADF, illuminating the experiences of LGBTI members in what was often a hostile institution. Drawing on over 140 interviews and previously unexamined documents,Pride in Defencefeatures accounts of secret romances, police surveillance and traumatic discharges. At its centre are the courageous LGBTI members who served their country in the face of systemic prejudice. In doing so, they showed the power of diversity and challenged the ADF to make it a far stronger institution. ...Show more
$29.99
AUD
Category: MILITARY
In this vivid first-hand account we gain unique access to the inner workings of Stalin's Central Women's Sniper School, near Podolsk in Western Russia. Luliia was a dedicated member of the Komsomol (the Soviet communist youth organisation) and her parents worked for the NKVD. She started at the sniper school and eventually became a valued member of her battalion during operations against Prussia. She persevered through eight months of training before leaving for the Front on 24th November 1944 just days after qualifying. Joining the third Belorussian Front her battalion endured rounds of German mortar as well as loudspeaker announcements beckoning them to come over to the German side. Luliia recounts how they would be in the field for days, regularly facing the enemy in terrifying one-on-one encounters. She sets down the euphoria of her first hit and starting her "battle count" but her reflection on how it was also the ending of a life. These feelings fade as she recounts the barbarous actions of Hitler's Nazi Germany. She recall how the women were once nearly overrun by Germans at their house when other Red Army formations had moved off and failed to tell them. She also details a nine-day stand-off they endured encircled by Germans in Landsberg.   ...Show more
$35.00
AUD
Category: MILITARY
An award-winning historian plumbs the depths of Hitler and Stalin's vicious regimes, and shows the extent to which they brutalized the world around them. Two 20th century tyrants stand apart from all the rest in terms of their ruthlessness and the degree to which they changed the world around them. Brie fly allies during World War II, Adolph Hitler and Josef Stalin then tried to exterminate each other in sweeping campaigns unlike anything the modern world had ever seen, affecting soldiers and civilians alike. Millions of miles of Eastern Europe were ruined in their fight to the death, millions of lives sacrificed. Laurence Rees has met more people who had direct experience of working for Hitler and Stalin than any other historian. Using their evidence he has pieced together a compelling comparative portrait of evil, in which idealism is polluted by bloody pragmatism, and human suffering is used casually as a political tool. It's a jaw-dropping description of two regimes stripped of moral anchors and doomed to destroy each other, and those caught up in the vicious magnetism of their leadership. ...Show more
$19.99
AUD
Category: MILITARY | Series: Australian Army Campaigns Ser.
The Passchendaele Campaign of 1917 is associated with images of slimy, oozing mud: mud deep enough and glutinous enough to drown men, horses and equipment, mud so pervasive that it, rather than the enemy, defeated the British Army's only major campaign in Belgium. While these images are certainly true f or the opening and final months of the campaign, mud was not he defining experience for the infantry of the Australian First and Second Divisions when, for the first time in history, two Australian Divisions fought a battle side by side in the Battle of Menin Road. For them, the defining experience was a well planned, well-conducted attack that saw all the objectives achieved in very short time. Menin Road was the third of the series of battles that together made up the Passchendaele (Third Ypres) Campaign. Intended to capture the high ground of the Gheluvelt Plateau east of Ypres to protect the right flank of the British Army advancing to its north, it was a difficult assignment. Earlier British attempts to clear the Plateau had been repulsed with heavy losses. With overwhelming artillery and air support, sound preparation and with limited objectives, the attack on 20 September surpassed all expectations. It was a classic example of how well-prepared and well-supported infantry could take and hold ground. However, as is explained in the book, it was also a classic example of why this operational method was too slow and would never win the war on the Western Front. ...Show more
$22.99
AUD
Category: MILITARY | Reading Level: very good
The boy is my greatest joy. We strengthen each other. We are one. Inseparable . . . If only we were free; but daily, hourly, death is before our eyes. In 1939, Gustav Kleinmann, a Jewish upholsterer in Vienna, was seized by the Nazis. Along with his teenage son, Fritz, he was sent to Buchenwald in Germ any. There began an unimaginable ordeal that saw the pair beaten, starved and forced to build the very concentration camp they were held in. When Gustav was set to be transferred to Auschwitz, a certain death sentence, Fritz refused to leave his side. Throughout the horrors they witnessed and the suffering they endured, there was one constant that kept them alive- the love between father and son. Based on Gustav's secret diary and meticulous archive research, this book tells his and Fritz's story for the first time - a story of courage and survival unparalleled in the history of the Holocaust. ...Show more
$19.99
AUD
Category: MILITARY
No Easy Day by Mark Owen with Kevin Maurer is the first-person account of Bin Laden's execution. For the first time anywhere, a first-person account of the planning and execution of the Bin Laden raid from inside the US Navy SEAL team who carried out the extraordinary mission to kill the terrorist maste rmind. No Easy Day puts readers inside the elite, handpicked twenty-four-man team known as SEAL Team Six as they train for the most important mission of their lives: the SEALs were going after bin Laden. From the crash of the Black Hawk helicopter that threatened the mission with disaster to the radio call confirming their target was dead, the SEAL team raid on bin Laden's secret HQ is recounted in nail-biting second-by-second detail. In No Easy Day, team leader Mark Owen takes readers behind enemy lines with one of the world's most astonishing fighting forces, in the only insider's account of their most spectacular mission. Praise for No Easy Day: "No Easy Day amounts to a cinematic account of the raid to kill Bin Laden: you feel as if you're sitting in the Black Hawk as it swoops in". (NY Times). "A blistering first-hand account". (The Sun). Mark Owen is a former member of the US Naval Special Warfare Development Group, commonly known as SEAL Team Six. In his many years as a Navy SEAL, he has participated in hundreds of missions around the globe, including the rescue of Captain Richard Phillips in the Indian Ocean in 2009. Owen was a team leader on Operation Neptune Spear in Abbottabad, Pakistan, on 1 May 2011, which resulted in the death of Osama bin Laden. Owen was one of the first men through the door on the third floor of the terrorist mastermind's hideout, where he witnessed bin Laden's death. Mark Owen's name and the names of the other SEALs mentioned in this book have been changed for their security. Kevin Maurer has covered special-operations forces for nine years. He has been embedded with the Special Forces in Afghanistan six times, spent a month in 2006 with special-operations units in east Africa, and has embedded with US forces in Iraq and Haiti. He is the author of four books, including several about special operations. ...Show more