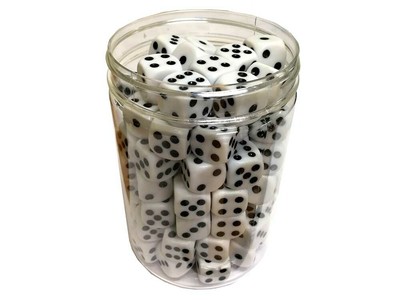 $0.50
AUD
Category: GAMES & PUZZLES
Opaque white dice with black spots. 16mm standard size game dice. Great for all dice games, board games, or teaching math. Sold individually.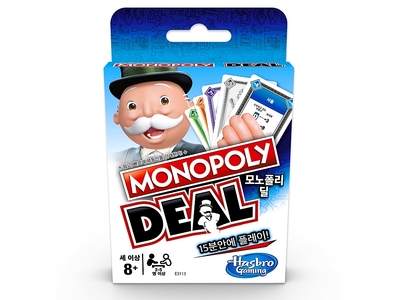 $14.99
AUD
Category: GAMES & PUZZLES
The Monopoly brand deal card game is all the fun of the Monopoly game in a quick-playing card game. It comes with 110 cards including property cards, rent cards, house and hotel cards, and wild property cards. Action cards let players do things such as charge rent and make tricky deals.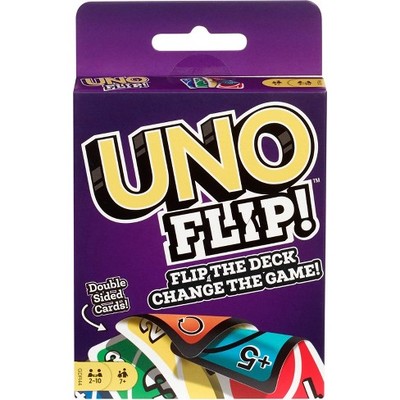 $16.99
AUD
Category: GAMES & PUZZLES
Brace yourself for the next iteration of classic UNO™: UNO FLIP!™. It's the matching game you know, plus exciting new twists -- like a double-sided deck, special FLIP card and tougher penalties -- that give classic gameplay a competitive edge. There is a "Light Side" to the deck, which plays like classi c UNO™, and a "Dark Side" where penalties are super-tough. Play the FLIP card and all cards in your hand, the draw pile and draw deck are flipped over to reveal an entirely new set of numbers and colours on the opposite side! The holder of the FLIP card determines whether or not you play on the Light Side or Dark Side of the deck -- and when you switch it back around. The Dark Side of the deck includes new action cards that really shake things up, like Draw Five and Skip Everyone cards. Strategize to rattle your competition and be the first to get rid of your cards to win. When you're down to one card, don't forget to shout "UNO!" Now card game-lovers can get UNO FLIP!™ in a sturdy tin that's great for storage and travel. This fun family card game is perfect for 7 year old's and up. ...Show more
$16.99
AUD
Category: GAMES & PUZZLES
UNO is the classic card game that's easy to pick up and impossible to put down! Players take turns matching a card in their hand with the current card shown on top of the deck either by color or number. Special action cards deliver game-changing moments as they help you defeat your opponents. These in clude Skips, Reverses, Draw Twos, Wild and Draw Four Wild cards. You'll find 25 of each color (red, green, blue, and yellow), eight Wild cards, three Customizable cards and one Special Rule card inside the 112-card deck. If you can't make a match, you must draw from the central pile! And when you're down to one card, don't forget to shout 'UNO!' The first player to rid themselves of all the cards in their hand before their opponents wins. It's Fast Fun for Everyone! ...Show more
$29.99
AUD
Category: GAMES & PUZZLES | Series: Magma for Laurence King Ser.
Discover all you ever wanted to know about poo - and more - with Poo Bingo! Featuring 24 animals and their uniquely shaped poos, this is the bingo game to end all bingo games. Kids will delight in discovering that wombats poo in cubes and that penguins poo in squirts that are different colours depending on what they've eaten! Be the first to fill your game card with animals and poos to win BINGO! ...Show more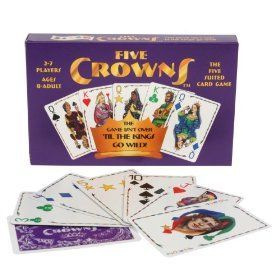 $34.99
AUD
Category: GAMES & PUZZLES
Five Crowns is a fast paced, ingenious new card game. Its double deck contains five suits (the STARS are new), but it has no Aces or Twos. This unique deck gives you many more options for arranging your hand into sets and sequences-the challenge is to see them. Make the right combinations, be the first to go out, then watch the other scramble as they get one last chance to cut their losses. You'll need luck and skill throughout the game, because even in the last hand a worthy opponent can come from behind and win. Remember, "the game isn't over 'til the Kings go wild!" 2-7 players. Ages 8+ ...Show more
$34.99
AUD
Category: GAMES & PUZZLES
Quiddler, the short word game - is a breakthrough in word games. Because short words, like 'at', 'is', 'of', 'ax','ow' and 'zoo' can lead to winning, readers of all ages can play and win. There are bonuses for both short and long words. You simply combine all the cards in your hand into words. The words don't have to be related and you don't play off other player's words. In the first round players get three cards, in the second round four cards, on up to 10 cards in the last round. Just words. Just fun. Ages 8-Adult, 1-8 players. ...Show more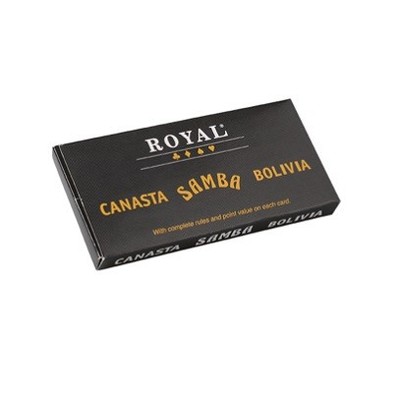 $16.99
AUD
Category: GAMES & PUZZLES
Plastic coated cards. Includes rules, 3 decks with point values. Two jokers in each deck.