$29.99
AUD
Category: CRIME
This is a book that will make you laugh, it will make you cry and it will break your heart. A triumph of a novel from the award-winning author of Tall Oaks. With the staggering intensity of James Lee Burke and the absorbing narrative of Jane Harper's The Dry, We Begin at the End is a powerful novel abo ut absolute love and the lengths we will go to keep our family safe. This is a story about good and evil and how life is lived somewhere in between.'You can't save someone that doesn't want to be saved . . .'For some people, trouble just finds them.Thirty years ago, Vincent King became a killer.Now, he's been released from prison and is back in his hometown of Cape Haven, California. Not everyone is pleased to see him. Like Star Radley, his ex-girlfriend, and sister of the girl he killed.Duchess Radley, Star's thirteen-year-old daughter, is part-carer, part-protector to her younger brother, Robin - and to her deeply troubled mother. But in trying to protect Star, Duchess inadvertently sets off a chain of events that will have tragic consequences not only for her family, but also the whole town.Murder, revenge, retribution.How far can we run from the past when the past seems doomed to repeat itself?'Surely destined to conquer the world. This intensely captivating story and its uniquely intriguing characters holds you in its jaws till the very last word. Astonishingly good' Ruth Jones'A very real, very rare talent' Sarah Hilary'The most beautifully written book I have read this year . . . Chris Whitaker is proving himself to be one of the most talented writers around' Lisa Hall ...Show more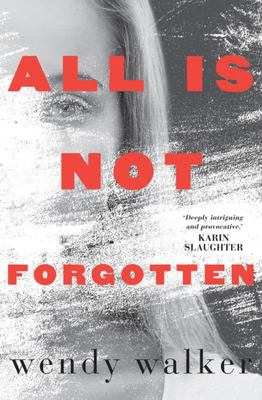 $9.99
AUD
$29.99
(66% off)
Category: CRIME | Series: Mira Ser.
"Deeply intriguing and provocative, ALL IS NOT FORGOTTEN explores intricate family relationships against the backdrop of searing suspense. A novel filled with twists, surprises, and a plot that keeps you guessing. ALL IS NOT FORGOTTEN is not to be missed." --Karin Slaughter, New York Times bestselling a uthor of PRETTY GIRLS "Fascinating and at times shocking, ALL IS NOT FORGOTTEN is one book you won't easily forget." --Mary Kubica, author of The Good Girl You can erase the memory. But you cannot erase the crime. Jenny's wounds have healed. An experimental treatment has removed the memory of a horrific and degrading attack. She is moving on with her life. That was the plan. Except it's not working out. Something has gone. The light in her eyes. And something was left behind. A scar. On her lower back. Which she can't stop touching. And she's getting worse. Not to mention that her father is obsessed with finding her attacker and her mother is in toxic denial. It may be that the only way to uncover what's wrong is to help Jenny recover her memory. But even if it can be done, pulling at the threads of her suppressed experience will unravel much more than the truth about her attack. And that could destroy as much as it heals... ...Show more
$32.99
AUD
Category: CRIME
'Carter is now in the Jeffery Deaver class' Daily Mail FROM THE AUTHOR OF THE SUNDAY TIMES NUMBER ONE BESTSELLER HUNTING EVIL COMES THE NEXT COMPULSIVE THRILLER IN THE ROBERT HUNTER SERIES   A serial killer will stop at nothing...   The Killer His most valuable possession has been stolen. Now he must r etrieve it, at any cost.   The Girl Angela Wood wanted to teach the man a lesson. It was a bag, just like all the others. But when she opens it, the worst nightmare of her life begins.   The Detective A journal ends up at Robert Hunter's desk. It soon becomes clear that there is a serial killer on the loose. And if he can't stop him in time, more people will die.   If you have read it You must die Praise for Chris Carter 'Punchy and fast paced' Sunday Mirror 'A gripping psychological thriller' Breakaway 'An insanely good crime series. Extraordinarily well written, high quality and high drama all the way' Liz Loves Books 'Carter has a background in criminal psychology and the killers at the centre of his novels are all the more terrifying for it' Mail on Sunday, chosen for 'If You Only Pack One' 'This is a chilling, compulsive portrait of a psychopath, and proves that Carter is now in the Jeffery Deaver class' Daily Mail 'There's a touch of the Patricia Cornwell about Chris Carter's plotting' Mail on Sunday 'Carter is one of those authors who makes writing look effortless ... I couldn't put it down' Crime Squad ...Show more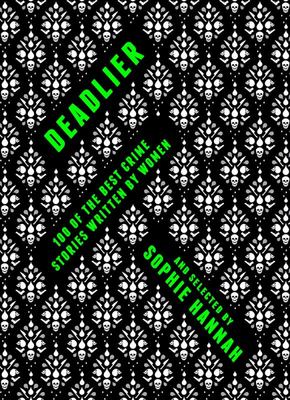 $44.99
AUD
Category: CRIME
100 of the best crimestories written by women, selected and introduced by Sophie Hannah. From Agatha Christie and Daphne du Maurier, to Val McDermid and Margaret Atwood, women writers have long been drawn to criminal acts. Here, award-winningauthor Sophie Hannah brings together 100 of her favourite exa mples. Deadlierincludes prize-winners, bestsellers and rising stars, so whether you take your crime cosy or hard-boiled, this big, beautiful anthology will keep you reading long into the night. ...Show more
$9.99
AUD
Category: CRIME | Series: John Puller Ser.
Combat veteran and U. S. Army investigator John Puller is on the hunt for justice with the help of a homicide detective -- but as they face deceptions and dead ends, a powerful force threatens to stop them forever.   John Puller is a combat veteran and the best military investigator in the U.S. Ar my's Criminal Investigative Division. His father was an Army fighting legend, and his brother is serving a life sentence for treason in a federal military prison. Puller has an indomitable spirit and an unstoppable drive to find the truth. Now, Puller is called out on a case in a remote, rural area in West Virginia coal country far from any military outpost. Someone has stumbled onto a brutal crime scene, a family slaughtered. The local homicide detective, a headstrong woman with personal demons of her own, joins forces with Puller in the investigation. As Puller digs through deception after deception, he realizes that absolutely nothing he's seen in this small town, and no one in it, are what they seem. Facing a potential conspiracy that reaches far beyond the hills of West Virginia, he is one man on the hunt for justice against an overwhelming force. ...Show more
$9.99
AUD
Category: CRIME | Series: Will Robie Ser.
The Innocent is another action-packed thriller from David Baldacci, one of the world's most popular writers. HE COULD NO LONGER REMEMBER THE NAMES OF ALL THE PEOPLE WHOSE LIVES HE HAD ENDED.Master assassin Will Robie is the man the US government call to eliminate their most ruthless enemies at home or a broad. He never questions his orders, and he never misses his mark.He's just returned from a covert assignment in Edinburgh to neutralize a growing threat, having drawn upon all his expertise to complete his mission and disappear without a trace. The odds were stacked against him, but that's never made a difference before.But now he's facing the most difficult operation of his career. Dispatched to kill a US government employee, he does the unthinkable when things don't add up - he refuses to pull the trigger. In doing so, Robie finds himself becoming the target. On the run from his own government and with everything on the line, does he need to change sides to save lives - including his own?The Innocent is the first novel in David Baldacci's blockbuster Will Robie series. ...Show more
$27.99
AUD
Category: CRIME
Set in 1927, the story takes all the classic elements of an interwar murder mystery and gives it a distinctive Australian flavour. A nameless friar turns up at Halfwell Station, at the same time that Ana, the adopted daughter of the station owners, discovers a body in the desert nearby when she goes for a midnight walk. But when she returns to look for it, the body is gone. Death Leaves the Stationwas written for fans of classic mystery and crime fiction. ...Show more
$9.99
AUD
Category: CRIME | Series: Camel Club Ser.
The Camel Club by bestselling sensation David Baldacci is the exciting first instalment of a breathtaking series.The Camel Club: a group of conspiracy theorists led by the mysterious Oliver Stone, who camp outside the White House. Their goal - to expose corruption at the upper echelons of US government. The stakes are raised when the group witness the murder of an intelligence analyst. A murder the authorities seem intent on writing off as suicide. Looking at the case more closely provokes more questions than answers.Joining forces with Secret Service Agent Alex Ford, the Camel Club prepare to shine a spotlight on a conspiracy that reaches into the heart of Washington's corridors of power. In doing so, Ford finds out that his worst nightmare is about to happen . . .The Camel Club is followed by The Collectors, Stone Cold, Divine Justice and Hell's Corner. ...Show more
$17.99
AUD
Category: CRIME | Series: Amos Decker Ser.
With over 110 million copies of his novels in print, David Baldacci is one of the most widely read storytellers in the world. Now he introduces a startling, original new character: a man with perfect memory who must solve his own family's murder.MEMORY MANAmos Decker's life changed forever--twice.The fi rst time was on the gridiron. A big, towering athlete, he was the only person from his hometown of Burlington ever to go pro. But his career ended before it had a chance to begin. On his very first play, a violent helmet-to-helmet collision knocked him off the field for good, and left him with an improbable side effect--he can never forget anything. The second time was at home nearly two decades later. Now a police detective, Decker returned from a stakeout one evening and entered a nightmare--his wife, young daughter, and brother-in-law had been murdered.His family destroyed, their killer's identity as mysterious as the motive behind the crime, and unable to forget a single detail from that horrible night, Decker finds his world collapsing around him. He leaves the police force, loses his home, and winds up on the street, taking piecemeal jobs as a private investigator when he can.But over a year later, a man turns himself in to the police and confesses to the murders. At the same time a horrific event nearly brings Burlington to its knees, and Decker is called back in to help with this investigation. Decker also seizes his chance to learn what really happened to his family that night. To uncover the stunning truth, he must use his remarkable gifts and confront the burdens that go along with them. He must endure the memories he would much rather forget. And he may have to make the ultimate sacrifice.MEMORY MAN will stay with you long after the turn of the final page. ...Show more
$9.99
AUD
Category: CRIME | Series: Shaw and Katie James Ser.
'I need a war ...' Nicolas Creel, a super-rich arms dealer, decides that the best way to boost his business is to start a new cold war -- and he won't let anything or anyone get in his way. As international tensions rise and the superpowers line up against each other, the lives of three very different p eople will never be the same again. As intelligence agent Shaw, academic Anna Fischer and ambitious journalist Katie James are all drawn into Creel's games, can anything stop the world from spiralling out of control? This terrifying global thriller delivers all the twists and turns, emotional drama, unforgettable characters and can't-put-it-down pacing that Baldacci fans expect -- and still goes beyond anything he's written before. ...Show more
$29.99
AUD
Category: CRIME | Series: In Death Ser.
As it often did since he'd married a cop, murder interrupted more pleasant activities. The again, Roarke supposed, the woman lying in a pool of her own blood a few steps inside the arch in Washington Square Park had a heftier complaint.   When a night out at the theatre is interrupted by the murder of a young woman in Washington Square Park, it seems like an ordinary case for Detective Eve Dallas and her team. But when her husband Roarke spots a shadow from his past in the crowd, Eve realises that this case is far from business as usual. Eve has two complex cases on her hands - the shocking murder of this wealthy young mother and tracking down the shadow before he can strike again, this time much closer to home. Eve is well used to being the hunter, but how will she cope when the tables are turned? As Eve and the team follow leads to Roarke's hometown in Ireland, the race is on to stop the shadow making his next move . . . ...Show more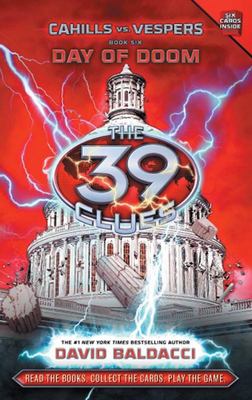 $17.99
AUD
Category: CRIME | Series: The 39 Clues: Cahills Vs Vespers | Reading Level: From 8 To 12
The bestselling series returns with an even deadlier challenge, as a new enemy is revealed to be searching for The 39 Clues too...Amy and Dan's race to save the hostages reaches its thrilling conclusion. Who will be victorious? The Cahills or the Vespers? More titles available: CAHILLS VS VESPERS 1: THE MEDUSA PLOT (9780545298391), CAHILLS VS VESPERS 2: A KING'S RANSOM (9780545298407), CAHILLS VS VESPERS 3: THE DEAD OF NIGHT (9780545298414), CAHILLS VS VESPERS 4: SHATTERPROOF (9780545298421) and CAHILLS VS VESPERS 5 (9780545298438). ...Show more