The Dry
by Jane Harper
$19.99
AUD
Category: CRIME | Reading Level: Adult
"One of the best crime novels I have ever read! Keeps you guessing to the last page" - Daphne (Satff) WHO REALLY KILLED THE HADLER FAMILY? It hasn't rained in Kiewarra for two years. Tensions in the farming community become unbearable when three members of the Hadler family are discovered shot to death on their property. Everyone assumes Luke Hadler committed suicide after slaughtering his wife and six-year-old son. Federal Police investigator Aaron Falk returns to his hometown for the funerals and is unwillingly drawn into the investigation. As suspicion spreads through the town, Falk is forced to confront the community that rejected him twenty years earlier. Because Falk and his childhood friend Luke Hadler shared a secret, one which Luke's death threatens to unearth ... ...Show more
$32.99
AUD
Category: CRIME | Reading Level: near fine
'A little beacon of pleasure...SUCH FUN!' KATE ATKINSON -  THE FIRST BOOK IN THE GRIPPING THURSDAY MURDER CLUB SERIES BY TV PRESENTER RICHARD OSMAN In a peaceful retirement village, four unlikely friends meet up once a week to investigate unsolved murders. But when a brutal killing takes place on their very doorstep, the Thursday Murder Club find themselves in the middle of their first live case. Elizabeth, Joyce, Ibrahim and Ron might be pushing eighty but they still have a few tricks up their sleeves. Can our unorthodox but brilliant gang catch the killer before it's too late?    ...Show more
$19.99
AUD
Category: CRIME
"I absolutely loved The Lost Man. I devoured it in a day. Her best yet!" Liane Moriarty The man lay still in the centre of a dusty grave under a monstrous sky. Two brothers meet at the border of their vast cattle properties under the unrelenting sun of outback Queensland. They are at the stockman''s gr ave, a landmark so old, no one can remember who is buried there. But today, the scant shadow it casts was the last chance for their middle brother, Cameron. The Bright family''s quiet existence is thrown into grief and anguish. Something had been troubling Cameron. Did he lose hope and walk to his death? Because if he didn''t, the isolation of the outback leaves few suspects... For readers who loved The Dry and Force of Nature, Jane Harper has once again created a powerful story of suspense, set against a dazzling landscape. LONGLISTED FOR THE ABIA GENERAL FICTION BOOK OF THE YEAR 2019 SHORTLISTED FOR THE INDIE BOOK AWARD FOR FICTION 2019 PRAISE FOR THE LOST MAN "I read this with the growing realisation that it was not only another superb thriller but a classic work of fiction by one of the finest novelists now working. Man Booker judges for 2019, are you listening?" New Zealand Herald Weekend Magazine "I started it at noon and at 2am that night I closed it and totally understood what all the fuss was about. It was even better than The Dry" The Age "We''re starting to get spoiled for Jane Harper books, and the quality is not slipping. Her latest is no exception. Harper lays out each card at exactly the right moment, letting the story unwind while the outback almost hums with hostility...the result grips to the end" Adelaide Advertiser"In The Lost Man, Jane Harper surpasses her achievement in The Dry, her multi-awardwinning first novel. A broad range of Australian and international readers will be engaged by the strong setting and mystery storyline of the new novel" Weekend Australian"Like the country it describes, this is a "big" book, and one likely to cement Harper''s place as one of the most interesting Australian crime writers to emerge in the past decade. Her sense of place is acute, but it is her attention to the relationships that are shaped by this unforgiving, magnificent landscape that will linger long after the mystery of stockman''s grave is finally revealed." Sue Turnbull, Sydney Morning Herald ''The Lost Man is her best yet; it''s certainly one of the finest novels of any sort, not only within the genre, that I''ve read in many moons . . . Harper adroitly blends the tension and brisk pace of a thriller with the psychological acuity and stylish prose of literary fiction'' Irish Independent ''In just a couple of years, Jane Harper has soared into the first rank of contemporary crime writers. The Lost Man...returns to the parched landscape she used to such powerful effect in her debut, The Dry ...Three generations of women - the dead man''s mother, wife and daughters - struggle to come to terms with terrible events, and the family''s shocking history holds the key to this super murder mystery'' Sunday Times (UK)''In The Lost Man as in Harper''s previous two novels, place is paramount, a multifaceted character that''s in turns brutal and breathtaking.'' Washington Post''[A] crime masterpiece. The landscape and culture of this remote Australian territory are magnificently evoked as a story of family secrets unfolds. Rarely does a puzzle so complicated fit together perfectly - you''ll be shaking your head in amazement.'' People Magazine Book of the Week''Fabulously atmospheric, the book starts slowly and gradually picks up pace towards a jaw-dropping denouement'' GuardianPRAISE FOR JANE HARPER"The most exciting emerging novelist of the last 12 months...places Harper in the elevated company of the authors she so admires...Gillian Flynn and Lee Child" Mail on Sunday"A storytelling force to be reckoned with" US Publishers Weekly"Thanks to Jane Harper, whose The Dry has gone gangbusters here and internationally, Australia''s very own crime genre, rural noir, is on a roll. [The Lost Man] is as much a family saga and love story as a thriller" Good Weekend Magazine ...Show more
$19.99
AUD
Category: CRIME
"Listeners looking for creepy will find it in full force in Alex North's dark thriller, narrated by British actor Christopher Eccleston." -- AudioFile Magazine This program is read by acclaimed British actor Christopher Eccleston.In this psychological thriller, Alex North weaves a multi-generational ta le of suspense, as a father and son are caught in the crosshairs of an investigation to catch a serial killer preying on a small town. After the sudden death of his wife, Tom Kennedy believes a fresh start will help him and his young son Jake heal. A new beginning, a new house, a new town. Featherbank. But the town has a dark past. Twenty years ago, a serial killer abducted and murdered five residents. Until Frank Carter was finally caught, he was nicknamed "The Whisper Man," for he would lure his victims out by whispering at their windows at night. Just as Tom and Jake settle into their new home, a young boy vanishes. His disappearance bears an unnerving resemblance to Frank Carter's crimes, reigniting old rumors that he preyed with an accomplice. Now, detectives Amanda Beck and Pete Willis must find the boy before it is too late, even if that means Pete has to revisit his great foe in prison: The Whisper Man. And then Jake begins acting strangely. He hears a whispering at his window...Praise for The Whisper Man: "The Whisper Man is the most unsettling thriller I have read since Jo Nesbo's The Snowman. Much more than the sum of its parts, it is nightmarish and disturbing and, at the same time, a moving and life-affirming novel about fathers and sons, and grief, loss, and recovery." -Alex Michaelides, author of the #1 New York Times bestseller The Silent Patient "There's a soft voice outside your window and it demands your attention. The Whisper Man is coming. In fact, he's already here. Get ready to be unnerved. This novel is thrilling." - Brad Meltzer, #1 New York Times bestselling author ...Show more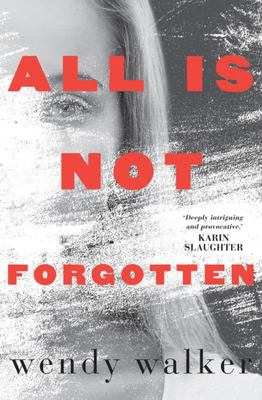 $9.99
AUD
$29.99
(66% off)
Category: CRIME | Series: Mira Ser.
"Deeply intriguing and provocative, ALL IS NOT FORGOTTEN explores intricate family relationships against the backdrop of searing suspense. A novel filled with twists, surprises, and a plot that keeps you guessing. ALL IS NOT FORGOTTEN is not to be missed." --Karin Slaughter, New York Times bestselling a uthor of PRETTY GIRLS "Fascinating and at times shocking, ALL IS NOT FORGOTTEN is one book you won't easily forget." --Mary Kubica, author of The Good Girl You can erase the memory. But you cannot erase the crime. Jenny's wounds have healed. An experimental treatment has removed the memory of a horrific and degrading attack. She is moving on with her life. That was the plan. Except it's not working out. Something has gone. The light in her eyes. And something was left behind. A scar. On her lower back. Which she can't stop touching. And she's getting worse. Not to mention that her father is obsessed with finding her attacker and her mother is in toxic denial. It may be that the only way to uncover what's wrong is to help Jenny recover her memory. But even if it can be done, pulling at the threads of her suppressed experience will unravel much more than the truth about her attack. And that could destroy as much as it heals... ...Show more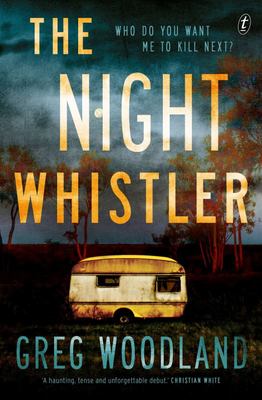 $32.99
AUD
Category: CRIME
Are you lonesome tonight... It's 1966. Hal and his little brother, newly arrived in Moorabool with their parents, are exploring the creek near their new home when they find the body of a dog. Not just dead, but recently killed. Not just killed, but mutilated. Constable Mick Goodenough, recently demoted from his city job as a detective, is also new in town--and one of his dogs has gone missing. He's experienced enough to know what it means when someone tortures an animal to death: it means they're practising. So when Hal's mother starts getting anonymous calls--a man whistling, then hanging up--Goodenough, alone among the Moorabool cops, takes her seriously. The question is: will that be enough to keep her safe? Nostalgic yet clear-eyed, simmering with small-town menace, Greg Woodland's wildly impressive debut populates the rural Australia of the 1960s with memorable characters and almost unbearable tension. ...Show more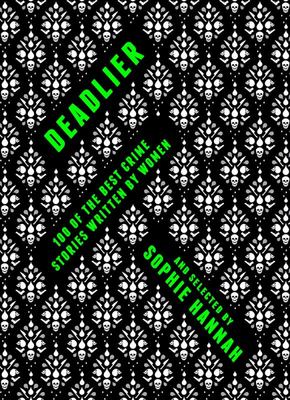 $44.99
AUD
Category: CRIME
100 of the best crimestories written by women, selected and introduced by Sophie Hannah. From Agatha Christie and Daphne du Maurier, to Val McDermid and Margaret Atwood, women writers have long been drawn to criminal acts. Here, award-winningauthor Sophie Hannah brings together 100 of her favourite exa mples. Deadlierincludes prize-winners, bestsellers and rising stars, so whether you take your crime cosy or hard-boiled, this big, beautiful anthology will keep you reading long into the night. ...Show more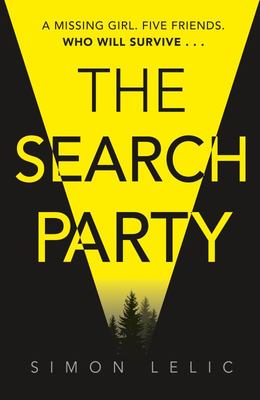 $35.00
AUD
Category: CRIME
'Brilliantly tense' Araminta Hall 'Clever and atmospheric' Mark Edwards 16-year-old Sadie Saunders is missing. Five friends set out into the woods to find her. But they're not just friends... THEY'RE SUSPECTS. You see, this was never a search party. It's a witch hunt. And not everyone will make i t home alive... THE CHALK MAN meets THE HUNTING PARTY in this gripping story; witness four suspects as, alongside DI Fleet, you attempt to discover the truth about what happened to Sadie... ____________________________ WHAT AUTHORS ARE SAYING ABOUT SIMON LELIC 'I've spent every free moment of the last few days feasting on The Search Party . . . a bloody good read and the very definition of unpredictable. Twisty, creepy, brilliantly paced and with a denouement I never saw coming' John Marrs 'Clever and atmospheric, with shades of Stand By Me' Mark Edwards 'A brilliantly tense tale of teenage frustration, lost souls and sibling love, with an atmosphere as tense as the end of summer storm that threatens throughout the book. Plus a whirlwind of an ending that's like riding a rollercoaster' Araminta Hall 'The Search Party is a marvel: intricate, complex and utterly gripping' Alex Lake 'A chillingly complex, well-crafted web. The voices cry out from Simon Lelic's pages as if they are standing right next to you' Jane Corry 'Psychologically compelling and deeply moving ... Simon Lelic just gets better and better' Dervla McTiernan 'A thriller that grabs you by the throat and never lets go. Taut, compelling and occasionally terrifying' Elly Griffiths 'Wow! I have been totally gripped by this riveting read for the past few days. I was captivated by the chapters told from the search party's perspective. I felt as though I was right there in their heads. The setting was perfect, atmospheric and chilling. The story, riveting and compelling. The characters, intriguing and suspenseful. Fantastic read!' Carla Kovach 'Unpredictable, wildly original and with an ending that made me gasp, this is thriller writing at its very best' Nuala Ellwood 'I loved this book, from one of my favourite authors. You'll definitely want to read this absorbing, creepy, and totally unputdownable novel' Luca Veste 'Simon Lelic is on my radar from this point forward. The Search Party is taut, beautifully written, and scary as hell, with more twists than a mountain road' Christina Dalcher ____________________________ WHAT READERS ARE SAYING ABOUT SIMON LELIC 'The unpredictable twists kept coming, just when I thought I'd worked out what was going on' Reviewer, Netgalley 'I read it in one session . . . a fabulous read' Alison, Netgalley 'The story gradually formed from a variety of perspectives with the picture gradually becoming clear and an outcome that I didn't see coming' Carol, Netgalley 'Wow. Didn't want to put this down' Lucy, Netgalley 'The ending was an absolute belter. I did NOT see it coming and yet it made perfect sense' Roxanne, Netgalley 'I LOVED this . . . extraordinarily addictive' Liz, Netgalley ...Show more
$19.99
AUD
Category: CRIME
Longlisted for the Women's Prize for Fiction 2018 Haunting, gripping and gorgeously written, SEE WHAT I HAVE DONE by Sarah Schmidt is a re-imagining of the unsolved American true crime case of the Lizzie Borden murders, for fans of BURIAL RITES and MAKING A MURDERER. 'Eerie and compelling' Paula Hawki ns 'Stunning' Sunday Times 'Gripping... outstanding' Observer 'Glittering' Irish Times Just after 11am on 4th August 1892, the bodies of Andrew and Abby Borden are discovered. He's found on the sitting room sofa, she upstairs on the bedroom floor, both murdered with an axe. It is younger daughter Lizzie who is first on the scene, so it is Lizzie who the police first question, but there are others in the household with stories to tell: older sister Emma, Irish maid Bridget, the girls' Uncle John, and a boy who knows more than anyone realises. In a dazzlingly original and chilling reimagining of this most notorious of unsolved mysteries, Sarah Schmidt opens the door to the Borden home and leads us into its murkiest corners, where jealousies, slow-brewed rivalries and the darkest of thoughts reside. ...Show more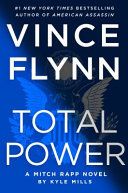 $32.99
AUD
Category: CRIME
In the next thriller in the #1 New York Times bestselling Mitch Rapp series, it's a race against the clock when ISIS takes out the entire US power grid and throws the country into chaos.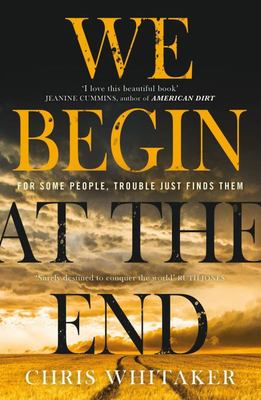 $29.99
AUD
Category: CRIME
This is a book that will make you laugh, it will make you cry and it will break your heart. A triumph of a novel from the award-winning author of Tall Oaks. With the staggering intensity of James Lee Burke and the absorbing narrative of Jane Harper's The Dry, We Begin at the End is a powerful novel abou t absolute love and the lengths we will go to keep our family safe. This is a story about good and evil and how life is lived somewhere in between.'You can't save someone that doesn't want to be saved . . .'For some people, trouble just finds them.Thirty years ago, Vincent King became a killer.Now, he's been released from prison and is back in his hometown of Cape Haven, California. Not everyone is pleased to see him. Like Star Radley, his ex-girlfriend, and sister of the girl he killed.Duchess Radley, Star's thirteen-year-old daughter, is part-carer, part-protector to her younger brother, Robin - and to her deeply troubled mother. But in trying to protect Star, Duchess inadvertently sets off a chain of events that will have tragic consequences not only for her family, but also the whole town.Murder, revenge, retribution.How far can we run from the past when the past seems doomed to repeat itself?'Surely destined to conquer the world. This intensely captivating story and its uniquely intriguing characters holds you in its jaws till the very last word. Astonishingly good' Ruth Jones'A very real, very rare talent' Sarah Hilary'The most beautifully written book I have read this year . . . Chris Whitaker is proving himself to be one of the most talented writers around' Lisa Hall ...Show more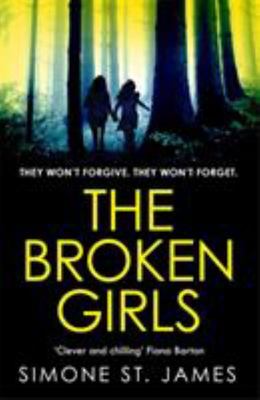 $21.99
AUD
Category: CRIME
THEY WON'T FORGIVE. THEY WON'T FORGET. 'Clever and wonderfully chilling. It held me hostage' - Fiona Barton, Sunday Times-bestselling author of The Widow and The Child 'A brilliant page-turner' Jenny Quintana, author of The Missing Girl 1950 - At the crumbling Idlewild Hall school for unwanted girls, four room-mates begin to bond over dark secrets and whispered fears - until one of them mysteriously disappears . . . 2014 - Journalist Fiona Sheridan can't get over the murder of her sister twenty years ago, near the ruins of Idlewild. And when another body is found during renovations of the school, she begins to uncover horrors that were meant to remain hidden - and a voice that won't be silenced. For fans of Lisa Jewell and S.K. Tremayne, The Broken Girls is a chilling story of murder, revenge, and secrets that refuse to stay buried . . . 'Dark and atmospheric . . . The Broken Girls shows the gothic claustrophobia of a small town haunted by more than its past' Harriet Tyce, author of Blood Orange 'Downright scary and atmospheric' - Lisa Gardner, author of Right Behind You ...Show more