$49.99
AUD
Category: COOKING
7 WAYS TO REINVENT YOUR FAVOURITE INGREDIENTS WITH MORE THAN 120 NEW, EXCITING AND TASTY RECIPES Jamie's looked at the top ingredients we buy week in, week out. We're talking about those meal staples we pick up without thinking - chicken breasts, salmon fillets, mince, eggs, potatoes, broccoli, mushroo ms, to name but a few. We're all busy, but that shouldn't stop us from having a tasty, nutritious meal after a long day at work or looking after the kids. So, rather than trying to change what we buy, Jamie wants to give everyone new inspiration for their favourite supermarket ingredients. Jamie will share 7 achievable, exciting and tasty ways to cook 18 of our favourite ingredients, and each recipe will include a minimal amount of ingredients. Across the book, at least 70% of the recipes will be everyday options from both an ease and nutritional point of view, meaning you're covered for every day of the week. With everything from fakeaways and traybakes to family and freezer favourites, you'll find bags of inspiration to help you mix things up in the kitchen. Step up, 7 WAYS, the most reader-focused cookbook Jamie has ever written. ...Show more
$55.00
AUD
Category: COOKING
Flavour-forward, vegetable-based recipes are at the heart of Yotam Ottolenghi's food. In this stunning new cookbook Yotam and co-writer Ixta Belfrage break down the three factors that create flavour and offer innovative vegetable dishes that deliver brand-new ingredient combinations to excite and inspir e. Ottolenghi FLAVOUR combines simple recipes for weeknights, low effort-high impact dishes, and standout meals for the relaxed cook. Packed with signature colourful photography, FLAVOUR not only inspires us with what to cook, but how flavour is dialled up and why it works. The book is broken down into three parts, which reveal how to tap into the potential of ordinary vegetables to create extraordinary food: Process explains cooking methods that elevate veg to great heights; Pairing identifies four basic pairings that are fundamental to great flavour; Produce offers impactful vegetables that do the work for you. With surefire hits, such as Aubergine Dumplings alla Parmigiana, Hasselback Beetroot with Lime Leaf Butter, Miso Butter Onions, Spicy Mushroom Lasagne and Romano Pepper Schnitzel, plus mouthwatering photographs of nearly every one of the more than 100 recipes, Ottolenghi FLAVOUR is the impactful, next-level approach to vegetable cooking that Ottolenghi fans and vegetable lovers everywhere have been craving.   ...Show more
$55.00
AUD
Category: COOKING | Reading Level: 5 Cooking
Winner fo the James Beard Book fo the Year Award 2020.   We all want to eat more fish, but who wants to bother spending the time, effort and money cooking that same old salmon fillet on repeat when you could be trying something new and utterly delicious? In The Whole Fish Cookbook, Australia's groundbre aking seafood chef Josh Niland reveals a completely new way to think about all aspects of fish cookery. From sourcing and butchering to dry ageing and curing, it challenges everything we thought we knew about the subject and invites readers to see fish for what it really is - an amazing, complex source of protein that can and should be treated with exactly the same nose-to-tail reverence as meat.   Featuring more than 60 recipes for dozens of fish species ranging from Smoked Marlin Ham Caesar Salad, Fish Cassoulet and Roast Fish Bone Marrow to - essentially - the The Perfect Fish and Chips, The Whole Fish Cookbook will soon have readers seeing that there is so much more to a fish than just the fillet and that it is indeed true what they say about there being more than just a handful of fish in the sea. ...Show more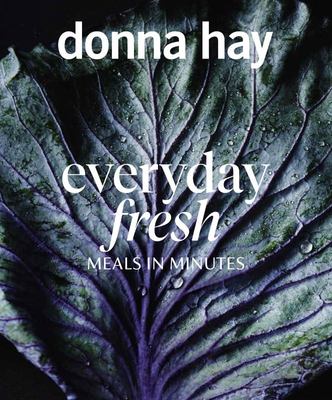 $45.00
AUD
Category: COOKING
From Australia's bestselling and most trust cook comes a stunning new book featuring super-fresh, super-fast recipes to help you feel nourished and energised ... and ready to savour life. 'One of the questions I get asked most frequently is if I still cook at home. The answer is yes. Absolutely. As oft en as possible.'There are days when it feels as though there's barely time to eat dinner, let alone prepare it. Donna knows on days like these, we all need a little Everyday Fresh in our lives. We all want to create delicious meals packed with flavour and everything that's good for us, with a minimum of fuss. And that's exactly what Donna Hay delivers. 'Simple made special' is the foundation of almost every recipe Donna has ever written. She's all about the classics, but also about a flexible, fresher approach to eating. She's constantly on the lookout for ways to make something easier, healthier, quicker or a little more on-trend - and she also loves a cheat, a quick-fix or anything that can be made in one bowl, that still tastes great. 'If I can create a dish that makes someone feel better because it's mouth-wateringly delicious, packed with nourishing vegetables, or helps them bring a little more balance to their life - that's success!' ...Show more
$39.99
AUD
Category: COOKING
Showcasing fuss-free recipes, Donna's trademark modern photography and styling - plus her tips on how to get the best results out of whatever you're making or cooking - this is the book to turn to when asked 'what's for dinner?'.
$39.99
AUD
Category: COOKING
The annual bible for lovers of Australian wine, detailing the best wineries and vintages of the key regions.   For over thirty years James Halliday has been Australia's most respected wine critic, and his Halliday Wine Companion is recognized as the industry benchmark for Australian wine. A best-selling annual, the Halliday Wine Companion is the go-to guide for wine ratings, regions, best varietals, winery reviews and a curated selection of the best wines in Australia. The 2021 edition has been completely revised to bring readers up-to-the-minute information.   In his inimitable style, Halliday shares his extensive knowledge of wine through detailed tasting notes with points, price, value symbol and advice on best-by drinking, as well as each wine's closure and alcohol content. He provides information about wineries and winemakers, including vineyard sizes, opening times and contact details. The perfect self-purchase or gift for the wine lover in your life.   ...Show more
$29.99
AUD
$39.99
(25% off)
Category: COOKING | Series: The\Plant Paradox Ser.
From renowned cardiac surgeon and acclaimed author Dr. Steven R. Gundry, the companion cookbook to New York Times bestselling The Plant Paradox, offering 100 easy-to-follow recipes and four-color photos. In the New York Times bestseller The Plant Paradox, Dr. Steven Gundry introduced readers to the hid den toxins lurking in seemingly healthy foods like tomatoes, zucchini, quinoa, and brown rice: a class of plant-based proteins called lectins. Many people are familiar with one of the most predominant lectins--a substance called gluten, which is found in wheat and other grains. But while cutting out the bread and going gluten-free is relatively straightforward, going lectin-free is no small task. Now, in The Plant Paradox Cookbook, Dr. Gundry breaks down lectin-free eating step by step and shares one hundred of his favorite healthy recipes. Dr. Gundry will offer an overview of his Plant Paradox program and show readers how to overhaul their pantries and shopping lists to make delicious, simple, seasonal, lectin-free meals. He'll also share his hacks for making high-lectin foods safe to eat, including methods like pressure-cooking grains and peeling and deseeding tomatoes. With a quick-start program designed to boost weight loss and recipes for smoothies, breakfasts, main meals, snacks, and desserts, The Plant Paradox Cookbook will show readers of The Plant Paradox--and more--how delicious it can be to eat lectin-free. ...Show more
$39.99
AUD
Category: COOKING
Family food is generous, unfussy and demonstrates love and care. No matter what busyness the day brings, the act of setting the table and enjoying a simple meal together is comforting and ever-reassuring. Eating simply and seasonally is at the core of Julia Busuttil Nishimura's recipes. Whether it's a cooling coffee granita to start a summer's day or the comfort of a hearty baked maccheroni in darkest winter, this is the kind of food you will want to share with your loved ones throughout the year. The dishes in this book are brought to life by great ingredients. There are plenty of quick recipes and some that require more time to bubble away on the stove. Overall, they are linked by taste and pleasure, and making the most of seasonal produce. This is generous, delicious food that the whole family will love, all year round. Recipes include: Summer - Crêpes with whipped ricotta - Slow-roasted tomatoes with mint and mozzarella - Spaghetti with fennel and prawns - Apricot and berry galette Autumn - Granola with poached plums - Spiced split lentil soup with fried eggplant - Miso roast chicken - Blackberry and apple pudding Winter - Congee - Lentil and maple-roasted carrot salad - Japanese braised pork - Dark chocolate, walnut and oat cookies Spring - Tokyo-style French toast - Silverbeet and ricotta malfatti with brown butter sauce - Lamb and green bean stew - Simple butter cake with raspberries ...Show more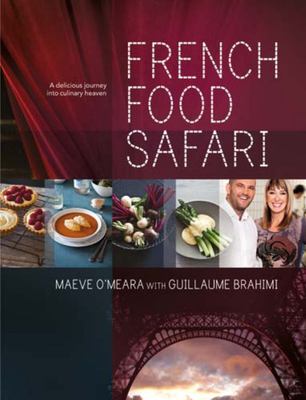 $39.99
AUD
Category: COOKING
French Food Safari is a celebration of exquisite French cuisine in all its delicious complexity. Maeve O'Meara and chef Guillaume Brahimi explore both Paris and regional France - visiting some of France's top chefs and providores. Meet the acclaimed Alain Ducasse, with an unprecedented 19 Michelin sta rs; the father of modern French cooking Paul Bocuse; legendary chef Guy Savoy, who has restaurants on three continents; and the incomparable king of sweets Pierre Hermé. Maeve and Guillaume take us into the ancient cellars below the streets of Paris to meet baker Jean-Luc Poujauran, patissier Fabrice Le Bourdat and the legendary wood-fired oven of bakers Poilâne; on a delicious journey into the fragrant cheese rooms of Laurent Dubois; to the mountains of the Ardèche, the home of prolific cookbook author and chef Stéphane Reynaud; searching for truffles with the Pebeyre family, among groves of oak trees in Périgord; and into the aromatic world of Maison du Chocolat where liquid chocolate is transformed into exquisite sweet delights. Australia's crème de la crème of French-inspired chefs also feature in this mouth-watering cookbook, sharing their wisdom and recipes. Along with Guillaume Brahimi they share favourite recipes and introduce the classics of French cuisine. French Food Safari is far more than a cookbook, it's a glimpse into a way of life that celebrates one of the best cuisines on the planet - a culture that revolves around sourcing and cooking the best regional produce, and taking the time to sit and enjoy the delicious results. ...Show more

$39.99
AUD
Category: COOKING | Reading Level: 6 Food
As a follow-up to Yumi Stynes' successful first book, The Zero Fucks Cookbook, Zero Fucks Endless Summer continues in her signature style - with sass and attitude and excellent ideas for food that is delicious and kind to your body, but does not call for hours in the kitchen. Across 90 recipes, Yumi cel ebrates one of the things she loves most about Australia, which is the incredible quality and accessibility of good produce and the fact that because it tastes so good, it is shamelessly easy to work with. Even when you are running on zero fucks. The book contains eight chapters: No cook Wonders (from salad to slaw to silken tofu); Endless Barbecue (a Yumi speciality, whatever the weather); Dips & Bits (for young kids and old); Oh Crap, It's Dinner Time (because that is the refrain of multi-taskers the world over); Sweet Miracles (exhibit A = Goddess Loaf); On With The Oven; and Low Stress Impress (because entertaining is meant to be fun). As well, she will share wisdom and ideas based on some of her favourite food topics: Eating all the Colours; Barbecue Know-How; Stocking the Pantry; Surviving Celebrations. And more! Ultimately, it is food that makes you feel good, food that celebrates the yumminess inherent in simple ingredients, food that encourages a 'no worries' attitude. ...Show more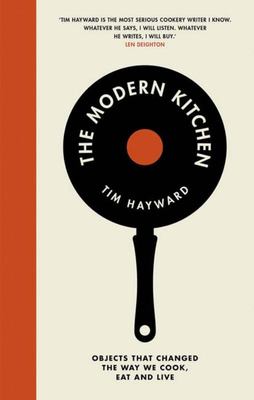 $15.95
AUD
$39.99
(60% off)
Category: COOKING
The kitchen is the heart of the home - it's where we spend leisure time as a family, where we feed ourselves and where we entertain our friends. The average western family spends more money on the kitchen than they do on a car or a holiday.â   We fill our kitchens with objects and tools that reflect o ur needs, tastes and desires. There is nowhere else in daily domestic life where design impinges quite as much as in the kitchen. Every item in the kitchen has its own story. Through 100 familiar objects, The Modern Kitchen maps the progress and development of this functional yet also wildly aspirational space. Why do the Le Creuset casserole dish and the wooden salad bowl exert such a cultural hold over us? How did the AGA become the symbol of gentrification? Has the accumulation of electrical appliances led us to cook and eat differently? As well as studying the individual objects that have had such a huge impact on the way we live now, The Modern Kitchen examines kitchen design, economics and gender politics. Embodying notions about class, gender, wealth and health, the home kitchen remains a neat insight into our beliefs, tastes, aesthetics and aspirations - the portrait of our domestic lives. ...Show more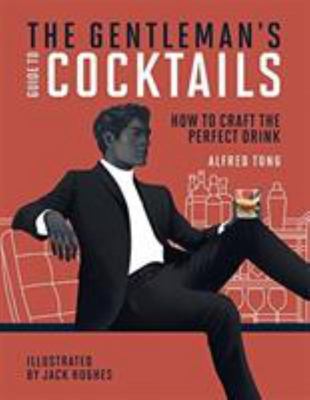 $22.99
AUD
Category: COOKING
Careers and fortunes have been built on the back of a man's ability to show people a good time, and what better way than to perfect the art of mixing a cocktail. In The Gentleman's Guide to CocktailsAlfred Tong teaches you how to mix a Margarita with mojo, a Gimlet with grace, and a Peach Bellini that p acks a punch. With over 150 recipes - personally selected by Alfred for their style and flavour - it covers classics like the Bloody Mary and Old Fashioned to more experimental mixes, such as the Alabama Slammer and Hellfire Punch. As well as recipes, Alfred imparts his wisdom on essential cocktail etiquette. Learn how to make a toast with a Martini, close a deal with your good taste and charm, and most importantly, when to release your inner cad. Illustrated with sophisticated drawings by Jack Hughes, this book will turn the amateur home barman into the perfect cocktail party host. ...Show more