$12.99
AUD
Category: CLASSICS | Series: Popular Penguins Ser. | Reading Level: very good
Pride and PrejudiceBy Jane AustenElizabeth Bennet is Austen's most liberated and unambiguously appealing heroine, and Pride and Prejudice has remained over most of the past two centuries Austen's most popular novel. The story turns on the marriage prospects of the five daughters of Mr. and Mrs. Bennet: Elizabeth forms a prejudice against the proud and distant Mr. Darcy; Darcy's charming friend Charles Bingley falls in love with her sister Jane; and the handsome officer George Wickham forms attachments successively to Elizabeth and to her sister Lydia. Irvine's extensive introduction sets the novel in the context of the literary and intellectual history of the period, and deals with such crucial background issues as early-nineteenth century class relations in Britain, and female exclusion from property and power. ...Show more
$34.99
AUD
Category: CLASSICS
From 'the most powerful book critic in the English-speaking world' (Vanity Fair) comes an inspiring and beautifully illustrated selection of the life-changing books that none of us should miss 'Why do we love books so much?' For legendary literary critic Michiko Kakutani, books have always been an esca pe and a sanctuary, the characters of some novels feeling so real to her childhood self that she worried they might leap out of the pages at night if she left the book cover open. In Ex Libris, she offers a personal selection of over 100 works of fiction, nonfiction and poetry, with passionate essays on why each has had a profound effect on her life. From Homer's The Odyssey to The Writings and Speeches of Martin Luther King, Jr. and Margaret Atwood's The Handmaid's Tale to Elena Ferrante's Neapolitan Novels, Ex Libris covers a rich and vast range of classics, old and new, that will help build a well-rounded reader and citizen of the world. With gorgeous illustrations by lettering artist Dana Tanamachi that evoke vintage bookplates leafed between Kakutani's inspiring essays, Ex Libris points us to our next great read - and proves an unmissable reminder of why we fell in love with reading in the first place. ...Show more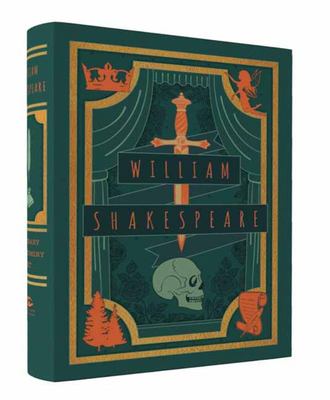 $35.00
AUD
Category: CLASSICS
Write as if from the desk of the Bard himself with this Shakespeare-themed stationery set.  Often considered to be the greatest poet in the English language, William Shakespeare is the writer of such classic plays as Hamlet, Macbeth, King Lear, and A Midsummer Night's Dream. His work is known for its el egant, rhythmic (and often bawdy) verse and universal themes such as love and marriage, war and politics, madness and revenge. Now readers can celebrate their love of Shakespeare with this finely crafted literary stationery set. Designed for the letter-writers, note-takers, and card-senders of the world, this stationery set includes: - 20 blank notecards, featuring classic Shakespeare quotes - 20 envelopes - 20 embossed gold sticker seals - A hardcover pocket journal - Keepsake box for storage Designed to look like a classic book of Shakespearean verse, this collectible set gives fans a unique way to celebrate the words and legacy of their favorite playwright. ...Show more
$14.99
AUD
Category: CLASSICS | Reading Level: very good
Brave New World is a novel written in 1931 by Aldous Huxley and published in 1932. Set in London of AD 2540 (632 A.F. - "After Ford" - in the book), the novel anticipates developments in reproductive technology, sleep-learning, psychological manipulation, and operant conditioning that combine to profou ndly change society. ...Show more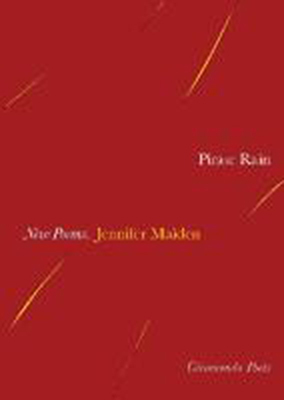 $24.00
AUD
Category: CLASSICS
Pirate Rain explores arbitrary power, as delivered by piratical, natural and human forces. Greed and ambition cause disasters in the poems, in complex sequences - featuring Hillary Clinton and Eleanor Roosevelt, and the return of George Jefferys and Clare. It interweaves political poems with a more pers onal poetry, probing the boundaries between autobiography and persona. ...Show more
Jane Eyre
by Charlotte Bronte
$6.95
AUD
Category: CLASSICS | Series: Wordsworth Classics | Reading Level: good
Jane Eyre ranks as one of the greatest and most perennially popular works of English fiction. Although the poor but plucky heroine is outwardly of plain appearance, she possesses an indomitable spirit, a sharp wit and great courage. She is forced to battle against the exigencies of a cruel guardian, a h arsh employer and a rigid social order. All of which circumscribe her life and position when she becomes governess to the daughter of the mysterious, sardonic and attractive Mr Rochester. However, there is great kindness and warmth in this epic love story, which is set against the magnificent backdrop of the Yorkshire moors. ...Show more
$12.99
AUD
Category: CLASSICS | Series: Popular Penguins Ser.
The Periodic Table is largely a memoir of the years before and after Primo Levi's transportation from his native Italy to Auschwitz as an anti-Facist partisan and a Jew.   It recounts, in clear, precise, unfailingly beautiful prose, the story of the Piedmontese Jewish community from which Levi came, o f his years as a student and young chemist at the inception of the Second World War, and of his investigations into the nature of the material world. As such, it provides crucial links and backgrounds, both personal and intellectual, in the tremendous project of remembrance that is Levi's gift to posterity. But far from being a prologue to his experience of the Holocaust, Levi's masterpiece represents his most impassioned response to the events that engulfed him.   The Periodic Table celebrates the pleasures of love and friendship and the search for meaning, and stands as a monument to those things in us that are capable of resisting and enduring in the face of tyranny. ...Show more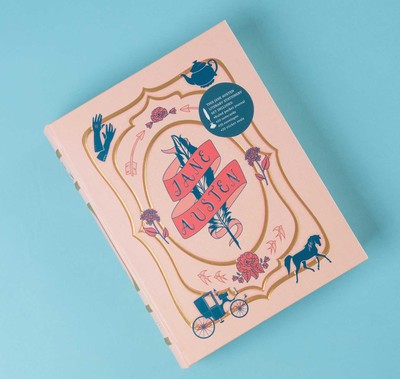 $35.00
AUD
Category: CLASSICS
Step into the Regency era with this Jane Austen-themed stationery set. Possibly the most famous and beloved female author of all time, Jane Austen has been delighting readers for over two centuries with such classic novels as Pride and Prejudice, Sense and Sensibility, and Emma. Hailed by many as an ear ly feminist, she is known for her witty prose, elegant style, and insightful social commentary. Now readers can celebrate their love of Jane with this finely crafted literary stationery set. Designed for the letter-writers, note-takers, and card-senders of the world, this stationery set includes: - 20 blank notecards, featuring classic Austen quotes - 20 envelopes - 20 embossed gold sticker seals - A hardcover pocket journal - Keepsake box for storage Designed to look like one of Jane's classic novels, this collectible set gives Austen fans a unique way to celebrate the words and legacy of their favorite writer. ...Show more
$19.99
AUD
Category: CLASSICS | Reading Level: very good
Anne Franks The Diary of a Young Girl is not just a true story but also a piece of history. Written by Anne Frank for herself, at the age of 13, the diary contains candid and intimate details of Annes thoughts and feelings during the two years of the Second World War she and her family and friends staye d hidden. Anne and her family were eventually arrested and sent to the concentration camps,but her diary remains a testament of youthful experiences in times of war. ...Show more
$12.99
AUD
Category: CLASSICS | Series: Popular Penguins Ser.
Originally written only for his personal consumption, Marcus Aurelius's Meditations has become a key text in the understanding of Roman Stoic philosophy. This Penguin Classics edition is translated with notes by Martin Hammond and an introduction by Diskin Clay.Written in Greek by an intellectual Roman emperor without any intention of publication, the Meditationsof Marcus Aurelius offer a wide range of fascinating spiritual reflections and exercises developed as the leader struggled to understand himself and make sense of the universe. Spanning from doubt and despair to conviction and exaltation, they cover such diverse topics as the question of virtue, human rationality, the nature of the gods and Aurelius's own emotions. But while the Meditations were composed to provide personal consolation, in developing his beliefs Marcus also created one of the greatest of all works of philosophy- a series of wise and practical aphorisms that have been consulted and admired by statesmen, thinkers and ordinary readers for almost two thousand years.Martin Hammond's new translation fully expresses the intimacy and eloquence of the original work, with detailed notes elucidating the text. This edition also includes an introduction by Diskin Clay, exploring the nature and development of the Meditations, a chronology, further reading and full indexes.Marcus Aelius Aurelius Antoninus (121-80) was adopted by the emperor Antoninus Pius and succeeded him in 161, (as joint emperor with adoptive brother Lucius Verus). He ruled alone from 169, and spent much of his reign in putting down various rebellions, and was a persecutor of Christians. His fame rest, above all, on his Meditations, a series of reflections, strongly influenced by Epictetus, which represent a Stoic outlook on life. He was succeeded by his natural son, thus ending the period of the adoptive emperors.If you enjoyed Meditations, you might like Seneca's Letters from a Stoic, also available in Penguin Classics. ...Show more
$24.99
AUD
Category: CLASSICS | Series: A\Penguin Classics Hardcover Ser.
Utterly unique and beloved around the world, The Prophet is a collection of twenty-six poetic essays by the Lebanese artist, philosopher and writer Khalil Gibran. Telling the story of the prophet Al-Mustafa and his conversations with various acquaintances as he returns home after a long absence, the boo k touches on subjects of universal concern, including love, friendship, passion, pain, religion and freedom. Thought-provoking, comforting and wise, the simple truths of The Prophet remain compelling and rewarding to this day. Designed to appeal to the booklover, the Macmillan Collector's Library is a series of beautiful gift editions of much loved classic titles. Macmillan Collector's Library are books to love and treasure. ...Show more
$14.99
AUD
Category: CLASSICS | Reading Level: Adult
'Shoot all the bluejays you want, if you can hit 'em, but remember it's a sin to kill a mockingbird.' Meet Scout, the narrator of this book. Her story is one of Deep South summers, fights at school and playing in the street. The spooky house of her mysterious neighbour, Boo Radley, sags dark and forbidd ing nearby. Her brother, Jem, and her friend, Dill, want to make Boo come outside. Her story is about justice. When Scout's father, a lawyer, agrees to defend a black man against an accusation by a white girl, he must battle the prejudice of the whole town.It's about imagination - not just the kind you need for childhood games. Because you never really know a man until you stand in his shoes and walk around in them. Vintage Children's Classics is a twenty-first century classics list aimed at 8-12 year olds and the adults in their lives. Discover timeless favourites from The Jungle Book and Alice's Adventures in Wonderland to modern classics such as The Boy in the Striped Pyjamas and The Curious Incident of the Dog in the Night-Time. ...Show more