$29.99
AUD
Category: BUSINESS & FINANCE
** Fully reviewed and updated for the 2018-2019 financial year** This is the only money guide you'll ever need That's a bold claim, given there are already thousands of finance books on the shelves. So what makes this one different? Well, you won't be overwhelmed with a bunch of 'tips' ... or a strict b udget (that you won't follow). You'll get a step-by-step formula: open this account, then do this; call this person, and say this; invest money here, and not there. All with a glass of wine in your hand. This book will show you how to create an entire financial plan that is so simple you can sketch it on the back of a serviette ... and you'll be able to manage your money in 10 minutes a week. You'll also get the skinny on: Saving up a six-figure house deposit in 20 months Doubling your income using the 'Trapeze Strategy' Saving $78,173 on your mortgage and wiping out 7 years of payments Finding a financial advisor who won't rip you off Handing your kids (or grandkids) a $140,000 cheque on their 21st birthday Why you don't need $1 million to retire ... with the 'Donald Bradman Retirement Strategy' Sound too good to be true? It's not. This book is full of stories from everyday Aussies -- single people, young families, empty nesters, retirees -- who have applied the simple steps in this book and achieved amazing, life-changing results. And you're next.       ...Show more
$29.99
AUD
Category: BUSINESS & FINANCE
Get the money basics right and get back on your feet after financial disaster. Australia hasn't had a recession in 30 years - so how can you recover from it? The COVID-19 pandemic has thrown the global economy into chaos and stock market on a wild rollercoaster ride. But what about your finances? Wheth er you've lost on shares, your property or your job, this is a frightening time for everyone. Getting the money stuff right has never been more important.Money Basics for Tough Times is about having a plan to recover from financial disaster. Packed with tips and strategies on money management, from negotiating with your landlord to buying groceries on a shoestring budget to investing in crashing markets to starting a side hustle for extra income, pioneering consumer finance journalist David Koch offers Australians hope in an unprecedented era by taking things back to basics.This is a clear, comforting, concise guide for how individuals and families, despite economic hardship and uncertainty, can turn their fortunes around. ...Show more
$32.99
AUD
Category: BUSINESS & FINANCE
A savvy, uplifting business and life guide for entrepreneurial millennials seeking to find their yay - from the Founder of Matcha Maiden, Match Mylkbar and the Seize the Yay podcast
$29.99
AUD
Category: BUSINESS & FINANCE
What would a fair and equal society look like? Imagine it is now 2025 and that years earlier, in the wake of the world financial crisis of 2008, a new post-Capitalist society had been born. In this ingenious book, world-famous economist Yanis Varoufakis draws on the greatest thinkers in European cultur e from Plato to Marx to offer us a dramatic and tantalising glimpse of this brave new world, where the principles of democracy, equality and justice are truly served. But in setting out what would be needed to forge such a society, he identifies a painful but important truth- that the greatest obstacles to making such a vision a reality lie within each of us. This book offers answers to some of the most pressing questions of today. It also challenges us to consider how we might answer them in our lives. It is a book to return to, time and again, for ideas and provocation, for solace and inspiration.     ...Show more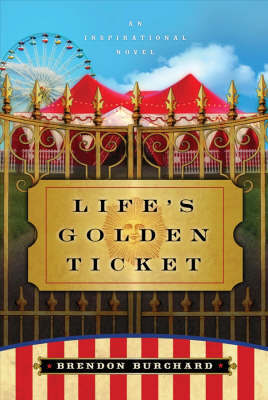 $23.99
AUD
Category: BUSINESS & FINANCE
A fictionalized account on one man's journey through a "theme park of life" after being implored by his dying fiancee to go and discover...Trapped in a prison of his past so he can't see the possibilities, the gifts and the choices available to him, his journey is our journey. Based on Brendon's experie nce teaching and coaching, he realizes that people never transform the quality of their lives unless their hearts and minds are truly engaged in changing - they need to have a deep, emotional reason to change. This beautiful, engaging story of love, loss and redemption will connect with people immediately. It will also cause readers to think and reflect on their lives more deeply, become more aware of their own life stories, accept their authentic selves, and become accountable for who they are. Brendon reaches out to engage hearts and minds in transforming lives with emotional edge and mental clarity. What is this golden ticket? And what kind of life does it really gain us admission to? The chapters are arranged into life lessons around 4 gates to transformation: Awareness, Acceptance, Accountability, and Action. "Whatever you do, pay the price of admission for Life's Golden Ticket! This book is entertaining, provocative and loaded with wisdom. Honestly, this is the most original book I've read in years!" (Bill Treasurer, CEO, Giant Leap Consulting and author of Right Risk - Ten Powerful Principles for Taking Giant Leaps with Your Life) "I read the story in one sitting, I just couldn't put it down. I cried, I laughed, I cheered, I wondered where it was all going - and when I finished, I was so thankful for the journey" (K C George, Corporate Program Manager, VISA USA) "Life's Golden Ticket is wise without being preachy, inspiring without forgetting insight, entertaining without sacrificing empowerment. Brendon Burchard shows incredible depth, compassion, and wisdom on every page. He has given us a true gift." (Kelley Graham, Director, Levi Strauss & Co) ...Show more
$54.99
AUD
Category: BUSINESS & FINANCE | Series: Wiley Desktop Editions Ser.
Business Model Generation is a handbook for visionaries, game changers, and challengers striving to defy outmoded business models and design tomorrow's enterprises. If your organization needs to adapt to harsh new realities, but you don't yet have a strategy that will get you out in front of your compet itors, you need Business Model Generation. Co-created by 470 "Business Model Canvas" practitioners from 45 countries, the book features a beautiful, highly visual, 4-color design that takes powerful strategic ideas and tools, and makes them easy to implement in your organization. It explains the most common Business Model patterns, based on concepts from leading business thinkers, and helps you reinterpret them for your own context. You will learn how to systematically understand, design, and implement a game-changing business model--or analyze and renovate an old one. Along the way, you'll understand at a much deeper level your customers, distribution channels, partners, revenue streams, costs, and your core value proposition. Business Model Generation features practical innovation techniques used today by leading consultants and companies worldwide, including 3M, Ericsson, Capgemini, Deloitte, and others. Designed for doers, it is for those ready to abandon outmoded thinking and embrace new models of value creation: for executives, consultants, entrepreneurs, and leaders of all organizations. If you're ready to change the rules, you belong to "the business model generation " ...Show more
$38.99
AUD
Category: BUSINESS & FINANCE | Series: Little Books. Big Profits Ser.
"There are a few investment managers, of course, who are very good - though in the short run, it's difficult to determine whether a great record is due to luck or talent. Most advisors, however, are far better at generating high fees than they are at generating high returns. In truth, their core compete nce is salesmanship. Rather than listen to their siren songs, investors - large and small - should instead read Jack Bogle's The Little Book of Common Sense Investing." - Warren Buffett, Chairman of Berkshire Hathaway, 2014 Annual Shareholder Letter. Investing is all about common sense. Owning a diversified portfolio of stocks and holding it for the long term is a winner's game. Trying to beat the stock market is theoretically a zero-sum game (for every winner, there must be a loser), but after the substantial costs of investing are deducted, it becomes a loser's game. Common sense tells us-and history confirms-that the simplest and most efficient investment strategy is to buy and hold all of the nation's publicly held businesses at very low cost. The classic index fund that owns this market portfolio is the only investment that guarantees you with your fair share of stock market returns. To learn how to make index investing work for you, there's no better mentor than legendary mutual fund industry veteran John C. Bogle. Over the course of his long career, Bogle-founder of the Vanguard Group and creator of the world's first index mutual fund-has relied primarily on index investing to help Vanguard's clients build substantial wealth. Now, with The Little Book of Common Sense Investing, he wants to help you do the same. Filled with in-depth insights and practical advice, The Little Book of Common Sense Investing will show you how to incorporate this proven investment strategy into your portfolio. It will also change the very way you think about investing. Successful investing is not easy. (It requires discipline and patience.) But it is simple. For it's all about common sense. With The Little Book of Common Sense Investing as your guide, you'll discover how to make investing a winner's game: Why business reality-dividend yields and earnings growth-is more important than market expectations How to overcome the powerful impact of investment costs, taxes, and inflation How the magic of compounding returns is overwhelmed by the tyranny of compounding costs What expert investors and brilliant academics-from Warren Buffett and Benjamin Graham to Paul Samuelson and Burton Malkiel-have to say about index investing And much more You'll also find warnings about investment fads and fashions, including the recent stampede into exchange traded funds and the rise of indexing gimmickry. The real formula for investment success is to own the entire market, while significantly minimizing the costs of financial intermediation. That's what index investing is all about. And that's what this book is all about. ...Show more
Think and Grow Rich
by Napoleon Hill; Arthur R. Pell (Editor)
$19.99
AUD
Category: BUSINESS & FINANCE | Reading Level: very good
This book contains money-making secrets that can change your life. Think and Grow Rich, based on the author's famed Law of Success, represents the distilled wisdom of distinguished men of great wealth and achievement.  Andrew Carnegie's magic formula for success was the direct inspiration for this boo k. Carnegie demonstrated its soundness when his coaching brought fortunes to those young men to whom he had disclosed his secret. This book will teach you that secret--and the secrets of other great men like him. It will show you not only what to do but also how to do it. If you learn and apply the simple basic techniques revealed here, you will have mastered the secret of true and lasting success--and you may have whatever you want in life! ...Show more
$12.99
AUD
Category: BUSINESS & FINANCE
April 2017 marks 20 years since Robert Kiyosaki's Rich Dad Poor Dad first made waves in the Personal Finance arena.It has since become the #1 Personal Finance book of all time... translated into dozens of languages and sold around the world.   Rich Dad Poor Dad is Robert's story of growing up with two dads -- his real father and the father of his best friend, his rich dad -- and the ways in which both men shaped his thoughts about money and investing. The book explodes the myth that you need to earn a high income to be rich and explains the difference between working for money and having your money work for you.   20 Years... 20/20 Hindsight In the 20th Anniversary Edition of this classic, Robert offers an update on what we've seen over the past 20 years related to money, investing, and the global economy. Sidebars throughout the book will take readers "fast forward" -- from 1997 to today -- as Robert assesses how the principles taught by his rich dad have stood the test of time.   In many ways, the messages of Rich Dad Poor Dad, messages that were criticized and challenged two decades ago, are more meaningful, relevant and important today than they were 20 years ago.   As always, readers can expect that Robert will be candid, insightful... and continue to rock more than a few boats in his retrospective.   Will there be a few surprises? Count on it.   Rich Dad Poor Dad... - Explodes the myth that you need to earn a high income to become rich- Challenges the belief that your house is an asset- Shows parents why they can't rely on the school system to teach their kids about money- Defines once and for all an asset and a liability- Teaches you what to teach your kids about money for their future financial success ...Show more
$29.99
AUD
Category: BUSINESS & FINANCE
The Barefoot Investor: The Only Money Guide You'll Ever Need is a phenomenon, sprinting through one million copies to become one of the best selling Australian books ever. Why is it so successful? It's simple, funny and practical. And it has changed people's lives. The eagerly anticipated follow-up, Th e Barefoot Investor for Families, sticks to the same script. It's aimed fairly and squarely at parents, grandparents, and basically anyone who read that book and said: 'Why the hell wasn't I taught this years ago?' Scott lays out ten money milestones kids need to have nailed before they leave home, and it's all structured around one family 'money meal' each week (so roughly 20 minutes). If you follow the roadmap, with tailor-made lessons for each age group, your kids will know how to do things like: Learn the life-changing value of hard work Set up a fee-free bank account (or jam jars!) Go on a Treasure Hunt around the house, and sell some of their 'stuff' second-hand Save your parents $100 on household bills Even ... Learn to cook at least two low-cost, delicious, nutritious meals from scratch. Scott's mission is to make sure your kids are financially strong so they never, ever get sucked into the traps that middle-aged bankers have devised to rob them of their money and their confidence. There are only ten things every kid needs to know about money, and you can teach them over dinner, once a week. It's that simple. Start now - it's never too early or too late. ...Show more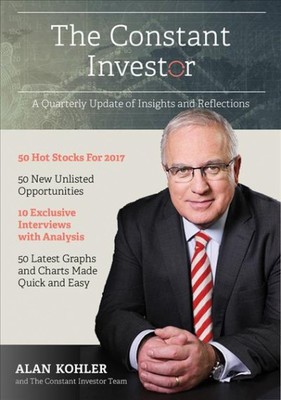 $29.99
AUD
Category: BUSINESS & FINANCE
The Constant Investor promises to provide you with investment ideas and education that will help in the endless war against bewilderment. This quarterly is a compendium of the most dependable and enduring articles from theconstantinvestor.com over the past 3 months.
$29.99
AUD
Category: BUSINESS & FINANCE | Reading Level: near fine
Forget the old concept of retirement and the rest of the deferred-life plan - there is no need to wait and every reason not to, especially in unpredictable economic times. Whether your dream is escaping the rat race, experiencing high-end world travel, earning a monthly five-figure income with zero mana gement, or just living more and working less, this book is the blueprint.This step-by step guide to luxury lifestyle design teaches-* How Tim went from $40,000 dollars per year and 80 hours per week to $40,000 per MONTH and 4 hours per week * How to outsource your life to overseas virtual assistants for $5 per hour and do whatever you want * How blue-chip escape artists travel the world without quitting their jobs * How to eliminate 50% of your work in 48 hours using the principles of a forgotten Italian economist * How to trade a long-haul career for short work bursts and frequent 'mini-retirements'.This new expanded version includes-More than 50 practical tips and case studies from readers (including families) who have doubled their income, overcome common sticking points, and reinvented themselves using the original book as a starting point * Real-world templates you can copy for eliminating email, negotiating with bosses and clients, or getting a private chef for less than e5 a meal * How lifestyle design principles can be suited to unpredictable economic times * The latest tools and tricks, as well as high-tech shortcuts, for living like a diplomat or millionaire without being either. ...Show more