$32.99
AUD
Category: BUSINESS & FINANCE
A savvy, uplifting business and life guide for entrepreneurial millennials seeking to find their yay - from the Founder of Matcha Maiden, Match Mylkbar and the Seize the Yay podcast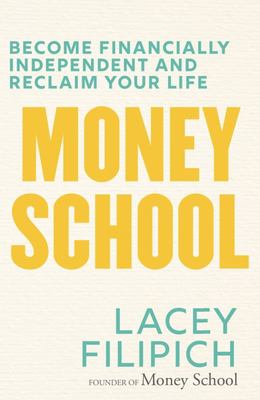 $29.99
AUD
Category: BUSINESS & FINANCE
'Time poor' is the catch-cry of our era, and yet end-of-life retirement means we have an average of two decades of feeling time rich to look forward to . . . when we're old. How arse-about is that? But there is an alternative to working your butt off for decades and retiring when you're worn out- it's called financial independence, and it means being able to cover life's essentials and afford the luxuries you want without having to turn up to a job each day. Imagine- the freedom and flexibility to work if, when and where you like, go travelling, spend time with family or start that business you've been dreaming of. And with enough time and a way to earn, it's achievable for most people through the power of passive income. Lacey Filipich knows because she's done it herself - and has been teaching the strategies and steps for financial independence for a decade through her education company, Money School. Now, she'll teach you all her tried-and-true lessons for redesigning your personal finances to create the life you really want. From maximising your income and cutting costs without big sacrifice, to property, shares and retirement funds, Money School explains exactly how to build a passive income that will completely change your life. Take control of how you spend your time and money to make them work for you - and get on the fast track to being financially independent and time rich. ...Show more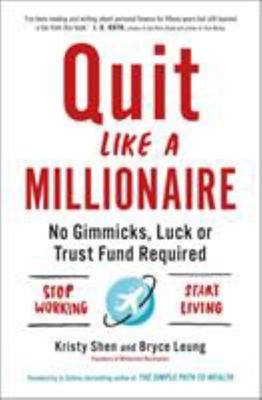 $29.99
AUD
Category: BUSINESS & FINANCE
From two leaders of the FIRE (Financial Independence, Retire Early) movement, a bold, contrarian guide to retiring at any age, with a reproducible formula to financial independence. A bull***t-free guide to growing your wealth, retiring early, and living life on your own terms. Kristy Shen retired wit h a million dollars at the age of thirty-one, and she did it without hitting a home run on the stock market, starting the next Snapchat in her garage, or investing in hot real estate. Learn how to cut down on spending without decreasing your quality of life, build a million-dollar portfolio, fortify your investments to survive bear markets and black-swan events, and use the 4 percent rule and the Yield Shield - so you can quit the rat race forever. Not everyone can become an entrepreneur or a real estate baron; the rest of us need Shen's mathematically proven approach to retire decades before sixty-five. ...Show more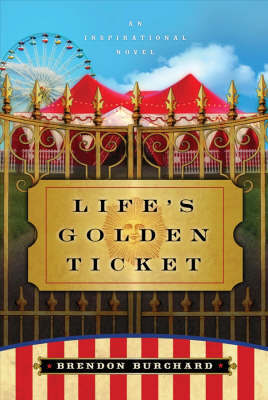 $23.99
AUD
Category: BUSINESS & FINANCE
A fictionalized account on one man's journey through a "theme park of life" after being implored by his dying fiancee to go and discover...Trapped in a prison of his past so he can't see the possibilities, the gifts and the choices available to him, his journey is our journey. Based on Brendon's experie nce teaching and coaching, he realizes that people never transform the quality of their lives unless their hearts and minds are truly engaged in changing - they need to have a deep, emotional reason to change. This beautiful, engaging story of love, loss and redemption will connect with people immediately. It will also cause readers to think and reflect on their lives more deeply, become more aware of their own life stories, accept their authentic selves, and become accountable for who they are. Brendon reaches out to engage hearts and minds in transforming lives with emotional edge and mental clarity. What is this golden ticket? And what kind of life does it really gain us admission to? The chapters are arranged into life lessons around 4 gates to transformation: Awareness, Acceptance, Accountability, and Action. "Whatever you do, pay the price of admission for Life's Golden Ticket! This book is entertaining, provocative and loaded with wisdom. Honestly, this is the most original book I've read in years!" (Bill Treasurer, CEO, Giant Leap Consulting and author of Right Risk - Ten Powerful Principles for Taking Giant Leaps with Your Life) "I read the story in one sitting, I just couldn't put it down. I cried, I laughed, I cheered, I wondered where it was all going - and when I finished, I was so thankful for the journey" (K C George, Corporate Program Manager, VISA USA) "Life's Golden Ticket is wise without being preachy, inspiring without forgetting insight, entertaining without sacrificing empowerment. Brendon Burchard shows incredible depth, compassion, and wisdom on every page. He has given us a true gift." (Kelley Graham, Director, Levi Strauss & Co) ...Show more
$24.99
AUD
Category: BUSINESS & FINANCE | Reading Level: very good
The inspiring, life-changing bestseller by the author of LEADERS EAT LAST and TOGETHER IS BETTER.  In 2009, Simon Sinek started a movement to help people become more inspired at work, and in turn inspire their colleagues and customers. Since then, millions have been touched by the power of his ideas, in cluding more than 28 million who've watched his TED Talk based on START WITH WHY -- the third most popular TED video of all time.   Sinek starts with a fundamental question: Why are some people and organizations more innovative, more influential, and more profitable than others? Why do some command greater loyalty from customers and employees alike? Even among the successful, why are so few able to repeat their success over and over?   People like Martin Luther King Jr., Steve Jobs, and the Wright Brothers had little in common, but they all started with WHY. They realized that people won't truly buy into a product, service, movement, or idea until they understand the WHY behind it.    START WITH WHY shows that the leaders who've had the greatest influence in the world all think, act, and communicate the same way -- and it's the opposite of what everyone else does. Sinek calls this powerful idea The Golden Circle, and it provides a framework upon which organizations can be built, movements can be led, and people can be inspired. And it all starts with WHY. ...Show more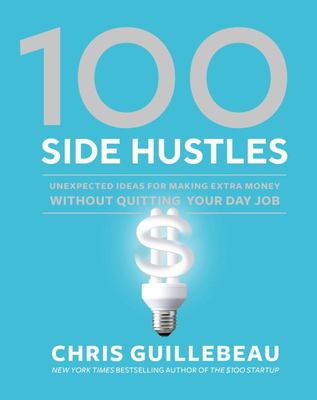 $42.99
AUD
Category: BUSINESS & FINANCE
Best-selling author Chris Guillebeau presents a full-color ideabook featuring 100 stories of regular people launching successful side businesses that almost anyone can do. This unique guide features the startup stories of regular people launching side businesses that almost anyone can do: an urban tour guide, an artist inspired by maps, a travel site founder, an ice pop maker, a confetti photographer, a group of friends who sell hammocks to support local economies, and many more. In 100 Side Hustles, best-selling author of The $100 Startup Chris Guillebeau presents a colorful "idea book" filled with inspiration for your next big idea. Distilled from Guillebeau's popular Side Hustle School podcast, these case studies feature teachers, artists, coders, and even entire families who've found ways to create new sources of income. With insights, takeaways, and photography that reveals the human element behind the hustles, this playbook covers every important step of launching a side hustle, from identifying underserved markets to crafting unique products and services that spring from your passions. Soon you'll find yourself joining the ranks of these innovative entrepreneurs--making money on the side while living your best life. ...Show more
$41.99
AUD
Category: BUSINESS & FINANCE
The irreverent guide to investing, Boglehead style The Boglehead's Guide to Investing is a DIY handbook that espouses the sage investment wisdom of John C. Bogle. This witty and wonderful book offers contrarian advice that provides the first step on the road to investment success, illustrating how rely ing on typical "common sense" promoted by Wall Street is destined to leave you poorer. This updated edition includes new information on backdoor Roth IRAs and ETFs as mainstream buy and hold investments, estate taxes and gifting, plus changes to the laws regarding Traditional and Roth IRAs, and 401k and 403b retirement plans. With warnings and principles both precisely accurate and grandly counterintuitive, the Boglehead authors show how beating the market is a zero-sum game. Investing can be simple, but it's certainly not simplistic. Over the course of twenty years, the followers of John C. Bogle have evolved from a loose association of investors to a major force with the largest and most active non-commercial financial forum on the Internet. The Boglehead's Guide to Investing brings that communication to you with comprehensive guidance to the investment prowess on display at Bogleheads.org. You'll learn how to craft your own investment strategy using the Bogle-proven methods that have worked for thousands of investors, and how to: Choose a sound financial lifestyle and diversify your portfolio Start early, invest regularly, and know what you're buying Preserve your buying power, keeping costs and taxes low Throw out the "good" advice promoted by Wall Street that leads to investment failure Financial markets are essentially closed systems in which one's gain garners another's loss. Investors looking for a roadmap to successfully navigating these choppy waters long-term will find expert guidance, sound advice, and a little irreverent humor in The Boglehead's Guide to Investing . ...Show more
$38.99
AUD
Category: BUSINESS & FINANCE | Series: Little Books. Big Profits Ser.
"There are a few investment managers, of course, who are very good - though in the short run, it's difficult to determine whether a great record is due to luck or talent. Most advisors, however, are far better at generating high fees than they are at generating high returns. In truth, their core compete nce is salesmanship. Rather than listen to their siren songs, investors - large and small - should instead read Jack Bogle's The Little Book of Common Sense Investing." - Warren Buffett, Chairman of Berkshire Hathaway, 2014 Annual Shareholder Letter. Investing is all about common sense. Owning a diversified portfolio of stocks and holding it for the long term is a winner's game. Trying to beat the stock market is theoretically a zero-sum game (for every winner, there must be a loser), but after the substantial costs of investing are deducted, it becomes a loser's game. Common sense tells us-and history confirms-that the simplest and most efficient investment strategy is to buy and hold all of the nation's publicly held businesses at very low cost. The classic index fund that owns this market portfolio is the only investment that guarantees you with your fair share of stock market returns. To learn how to make index investing work for you, there's no better mentor than legendary mutual fund industry veteran John C. Bogle. Over the course of his long career, Bogle-founder of the Vanguard Group and creator of the world's first index mutual fund-has relied primarily on index investing to help Vanguard's clients build substantial wealth. Now, with The Little Book of Common Sense Investing, he wants to help you do the same. Filled with in-depth insights and practical advice, The Little Book of Common Sense Investing will show you how to incorporate this proven investment strategy into your portfolio. It will also change the very way you think about investing. Successful investing is not easy. (It requires discipline and patience.) But it is simple. For it's all about common sense. With The Little Book of Common Sense Investing as your guide, you'll discover how to make investing a winner's game: Why business reality-dividend yields and earnings growth-is more important than market expectations How to overcome the powerful impact of investment costs, taxes, and inflation How the magic of compounding returns is overwhelmed by the tyranny of compounding costs What expert investors and brilliant academics-from Warren Buffett and Benjamin Graham to Paul Samuelson and Burton Malkiel-have to say about index investing And much more You'll also find warnings about investment fads and fashions, including the recent stampede into exchange traded funds and the rise of indexing gimmickry. The real formula for investment success is to own the entire market, while significantly minimizing the costs of financial intermediation. That's what index investing is all about. And that's what this book is all about. ...Show more
$29.99
AUD
Category: BUSINESS & FINANCE
In her #1 NYT bestsellers, Brene Brown taught us what it means to dare greatly, rise strong and brave the wilderness. Now, based on new research conducted with leaders, change makers and culture shifters, she's showing us how to put those ideas into practice so we can step up and lead. Leadership is no t about titles, status and power over people. Leaders are people who hold themselves accountable for recognising the potential in people and ideas, and developing that potential. This is a book for everyone who is ready to choose courage over comfort, make a difference and lead. When we dare to lead, we don't pretend to have the right answers; we stay curious and ask the right questions. We don't see power as finite and hoard it; we know that power becomes infinite when we share it and work to align authority and accountability. We don't avoid difficult conversations and situations; we lean into the vulnerability that's necessary to do good work. But daring leadership in a culture that's defined by scarcity, fear and uncertainty requires building courage skills, which are uniquely human. The irony is that we're choosing not to invest in developing the hearts and minds of leaders at the same time we're scrambling to figure out what we have to offer that machines can't do better and faster. What can we do better? Empathy, connection and courage to start. Brene Brown spent the past two decades researching the emotions that give meaning to our lives. Over the past seven years, she found that leaders in organisations ranging from small entrepreneurial start-ups and family-owned businesses to non-profits, civic organisations and Fortune 50 companies, are asking the same questions- How do you cultivate braver, more daring leaders? And, how do you embed the value of courage in your culture? Dare to Lead answers these questions and gives us actionable strategies and real examples from her new research-based, courage-building programme. Brene writes, 'One of the most important findings of my career is that courage can be taught, developed and measured. Courage is a collection of four skill sets supported by twenty-eight behaviours. All it requires is a commitment to doing bold work, having tough conversations and showing up with our whole hearts. Easy? No. Choosing courage over comfort is not easy. Worth it? Always. We want to be brave with our lives and work. It's why we're here. ...Show more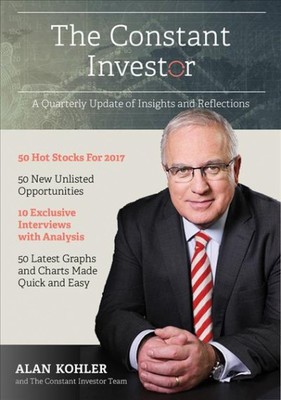 $29.99
AUD
Category: BUSINESS & FINANCE
The Constant Investor promises to provide you with investment ideas and education that will help in the endless war against bewilderment. This quarterly is a compendium of the most dependable and enduring articles from theconstantinvestor.com over the past 3 months.
$24.99
AUD
Category: BUSINESS & FINANCE
Simple and timeless tools for success and happiness For more than eighty years, millions of people from Warren Buffett to Oprah Winfrey have benefited from the remarkable wisdom of Dale Carnegie. Intended as a basic sales primer, How to Win Friends and Influence People quickly exploded into an overnigh t success--selling more than fifteen million copies worldwide and becoming one of the most influential books of all time. With an enduring grasp of human nature, Dale Carnegie's How to Win Friends and Influence People shows you how to be more persuasive and effective, a better leader and manager, and happier at home and at work. This special new edition of the beloved classic includes an exclusive foreword by Terry O'Reilly. ...Show more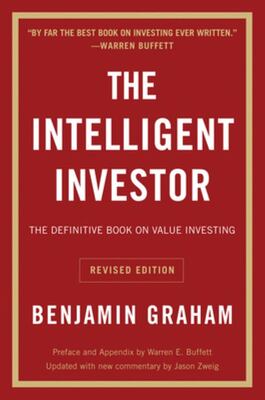 The Intelligent Investor
by Benjamin Graham; Jason Zweig (Commentaries by); Warren Buffett (Preface by)
$34.99
AUD
Category: BUSINESS & FINANCE | Series: Collins Business Essentials Ser. | Reading Level: very good
The greatest investment advisor of the twentieth century, Benjamin Graham taught and inspired people worldwide. Graham's philosophy of "value investing"--which shields investors from substantial error and teaches them to develop long-term strategies--has made The Intelligent Investor the stock market bi ble ever since its original publication in 1949. Over the years, market developments have proven the wisdom of Graham's strategies. While preserving the integrity of Graham's original text, this revised edition includes updated commentary by noted financial journalist Jason Zweig, whose perspective incorporates the realities of today's market, draws parallels between Graham's examples and today's financial headlines, and gives readers a more thorough understanding of how to apply Graham's principles. Vital and indispensable, The Intelligent Investor is the most important book you will ever read on how to reach your financial goals. ...Show more