$14.99
AUD
Category: KIDS 6-9 | Series: Funny Kid
Every kid wants to laugh, but Max is the boy who can make it happen. He's not the smartest kid; he's not the fastest kid; he's not the prettiest kid; but he might just be the funniest kid you've ever met. Max and his friends take a road trip to Adventure Park to dare each other to ride The Tower of Dyin g Deathly Doom. But it may be Duck who is the bravest one of all. FUNNY KID is the mega-bestselling series from author-illustrator Matt Stanton that's got everyone laughing!    ...Show more
$16.99
AUD
Category: KIDS 6-9 | Series: Dog Man
Howl with laughter with Dog Man, the internationally bestselling series from Dav Pilkey, the creator of Captain Underpants! Petey the Cat is out of jail, and he has a brand-new lease on life. While Petey's reevaluated what matters most, Li'l Petey is struggling to find the good in the world. Can Petey a nd Dog Man stop fighting like cats and dogs long enough to put their paws together and work as a team? They need each other now more than ever -- Li'l Petey (and the world) is counting on them! Dav Pilkey's wildly popular Dog Man series appeals to readers of all ages and explores universally positive themes, including empathy, kindness, persistence, and the importance of being true to one's self.   ...Show more
$12.99
AUD
Category: KIDS 6-9 | Series: Hotdog
Hotdog, Kev and Lizzie enter an art contest at the local museum. But what happens when someone steals the most famous painting in the world the Llama Lisa!? Can Hotdog and his friends chase down the robbers?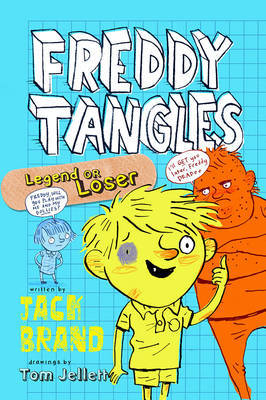 $9.99
AUD
Category: KIDS 6-9 | Series: Freddy Tangles
What would you rather do, tell Sid he smells or tell Principal Brody he smells? That's easy. I would tell Mr Brody...No one is scarier than Sid Malone, and now he's coming to get Freddy. Luckily, Freddy's got a plan. Laser beam eyes. If he stares at a white wall for long enough and wants it bad enough, his eyes will start to shoot laser beams...He didn't say it was a good plan!..His friends are in danger too. But what can Freddy do when he's even afraid of his little sister? (Well to be fair, she is totally evil!) Freddy has to find a way, and one thing is for sure - it's going to hurt. ...Show more
$15.99
AUD
Category: KIDS 6-9 | Series: Weirdo
Its time to vote! Weir Dos in the running for class captain... but will an EPIC HAIR DISASTER destroy his chances of winning?! It wont be easy... but it will be funny!
$15.99
AUD
Category: KIDS 6-9 | Series: Wolf Girl
A wildly exciting adventure series from bestselling author Anh Do. Gwen has been searching for her family for a long time. Just when she feels she is close, the soldiers following her start to close in. Then one of her dogs is injured, and the gang must slow down...Who can Gwen trust? And how will she k eep her pack safe from dangerous enemies? Does this spell disaster for the one and only Wolf Girl? ...Show more
$14.99
AUD
Category: KIDS 6-9 | Series: PESTS
From the author/illustrator of the DIARY OF PIG series, winner in the 6-8 category of the Lollies 2018 - meet Stix, the tiny, but heroic mouse who might be living behind your washing machine, and all his pest-y friends (and enemies)... Stix is the size of an egg cup, can jump the width of a dog's bottom , and LOVES cheese. That's because Stix is a mouse. He probably lives behind your washing machine, but you wouldn't know it, because his Grandma's taught him to always stay out of trouble and NEVER let the humans know he's there. But now Stix has stumbled across PESTS - the Peewit Educatorium for Seriously Terrible Scoundrels, in the basement of his block of flats, and along with a whole host of new pesty friends (and enemies), he's about to rip up Grandma's rule book and make a REAL pest of himself... From Emer Stamp, author of the bestselling series THE UNBELIEVABLE TOP-SECRET DIARY OF PIG. ...Show more
$15.99
AUD
Category: KIDS 6-9 | Series: Ninja Kid
The fair is in town! Nelson and Kenny want to go on ALL the rides! But after testing Grandmas new invention, theyre suddenly TOO SMALL to go anywhere! Luckily, Nelson and Kenny have a plan to get TALLER again... way, WAAAAY TALLER!  
$9.99
AUD
Category: KIDS 6-9 | Series: Kitty Is Not a Cat Ser.
Due for release 28th July A warmly funny junior-fiction series about Kitty, a little girl who believes she can be anything she dreams - even a cat. When Kitty arrives on the doorstep of a house full of music-mad felines, their lives are turned upside down as they attempt to teach her how to be human. Some children hate going to bed. Not Kitty! Kitty falls asleep every night curled up snug as a bug in a bed box. That is, until one spooky night when Kitty's night-light goes missing and her fear of the dark comes creeping out. The cats, unfamiliar with the concept, try to settle her down but to no avail. In the end, it won't be a night-light that saves the day. Based on the Australian TV series that is enjoyed by kids the whole world over. ...Show more
$19.99
AUD
Category: KIDS 6-9 | Series: Thea Stilton: Treasure Seekers
The search for the seven secret treasures continues. In this incredible adventure, the Thea Sisters come across the legendary Jewel of the Queen. They cross rivers of ice, deserts of fire, and other fascinating places on their journey to find it.
$14.99
AUD
Category: KIDS 6-9
The fun and frolics continue at Toffle Towers when all of Alandale is snowed in, but guests' precious belongings start to go missing. Is there a thief staying at the hotel? To keep the Toffle Towers guests entertained while they're stuck indoors, and try to catch the culprit, Chegwin puts on a talent s how with a hefty wodge of cash as the prize. To make things worse for the Toffle Towers team, Brontessa Braxton is up to her old tricks again, and Chegwin must beat her in court if he's to save Toffle Towers from yet another takeover attempt. Will Chegwin come up with a plan in time? And will he ever find the missing room and the hotel's mystery guest? ...Show more